Improving the student network
Posted on: 13 July, 2022
Joe Orrell, who is studying on our BSc (Hons) Building Surveying programme via our Chartered Surveyor apprenticeship, is our new Student Trustee and Lead Student Representative.
In the post for the upcoming 2022/23 academic year, here, Joe shares his aims in the role, outlines his current work in the sector and reflects on his studies so far…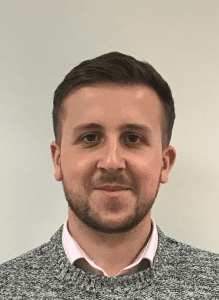 I am currently an Apprentice Building Surveyor at Workman LLP. Workman LLP specialises in commercial property and provides both property management and building surveying services.
I have recently started the APC Pathway and I am aiming to become a Chartered Surveyor in summer 2024.
Aims within the role
The reason I decided to apply to become the Lead Student Representative is that I want to improve the student network and promote post-qualification opportunities.
Due to UCEM being an online institution, many students have made it clear that the lack of communication and networking between students is something that should be acted upon. The nature of the built environment means that collaboration is essential for the progression of students once qualified.
To meet these aims, our student representative team is going to consult the students and consider the implementation of in-person events, similar to the planned professional workshops implemented pre-COVID. In addition, we are seeking to improve the careers platform by providing an informal way for students to showcase job opportunities.
In my current job, as an Apprentice Building Surveyor, I often attend local networking events and these are useful to those already employed and settled into the profession; however, these events are often only marketed to those working for firms in the area and students (particularly non-apprentice students) are often left out. This is why I am so keen to push for closer communication between the students at UCEM.
I will seek to provide informal ways of communication between students and provide a well-advertised forum for students to post job vacancies within their company.
As part of my role of Lead Student Representative, I am also aiming to improve the APC assistance from UCEM in order to enhance the apprenticeship experience for those on a similar route to my own.
Studying with UCEM
My studies with UCEM have so far been rewarding and the online platform is something which is very appealing in this day and age. The opportunity to work four days a week and continue my studies is invaluable to my personal development and career prospects, and is something which initially interested me in the role.
Building surveying
Similar to the majority of students at UCEM, I came into building surveying by accident. Due to the lack of advertisement, I only found out about this pathway through a parent of one of my friends.
The balance between working in the office and visiting sites was something that initially appealed to me and I was curious to find out more. After discussing some of the project work involved with a chartered surveyor, I was keen to take this on as a career and took the traditional route of applying for university.
Upon discovering the apprenticeship route, I was delighted as I wanted to get work experience rather than solely studying. The lack of apprenticeship opportunities meant that even getting an interview was a challenge in itself; however, I luckily got the opportunity to work for Workman LLP and I have been working for the firm for nearly three years.
Thanks for sharing your thoughts with us, Joe, and best of luck in the role!