'I consider one of our greatest achievements as business owners has been the development of our apprentices': Q&A with an apprentice and their employer
Posted on: 16 November, 2021
We recently spoke to former UCEM apprentice, Sam Prideaux, and his director, Martin Munday, about their passion for apprenticeships. Sam and Martin work for Modus Construction Consultants – an award winning, independent, chartered quantity surveying practice covering Kent, Surrey and Sussex.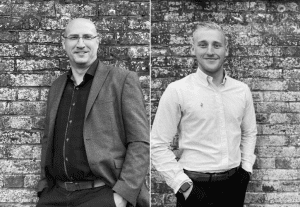 Sam, how did you find out about apprenticeships?
I first heard about apprenticeships at school, but these were typically advertised as construction trade related apprenticeships, rather than academic apprenticeships. I knew that I didn't want to go to university full-time, but knew I wanted to further my education in some way whilst building a career.  I started investigating different types of apprenticeships that offered an opportunity to obtain a degree and had always been interested in construction and the built environment.  Although I didn't know too much about quantity surveying as a career, Modus had a great opportunity at the time to embark on a degree apprenticeship programme within the construction industry.
How did you become an apprentice?
I heard about the opportunity from a governor at a local school who was also an architect. He let me know about the opportunity for a trainee quantity surveyor position which offered a degree apprenticeship programme and I applied for the position.
What I found appealing was that Modus offered me a job full-time for one year, to see whether quantity surveying suited me as a career, before enrolling on the official apprenticeship scheme.  This not only gave me time to settle in but also time to obtain valuable experience before starting my apprenticeship.
Martin, have you had employees on apprenticeship programmes before?
My business partner Michael and I both started in the industry as apprentices at the same practice in 1999 and 2002 and therefore had personal experience of the huge benefits an apprenticeship offers to both the employee and the employer. From the outset, it was our intention to offer apprenticeship schemes within the businesss. Sam was the first Modus apprentice and was recruited within 12 months of us starting the company.
Sam joined us as an employee soon after completing his A-Levels and had already decided that he didn't want to undertake full-time further education. The apprenticeship was ideally suited to Sam because of the mix of on-the-job training alongside a part-time degree course.
We discovered UCEM through research into apprenticeship funding. After our initial contact with UCEM, we found them to be very engaging and proactive, assisting us through the process at all the key steps; it made our lives so much simpler.
One of the key benefits of the UCEM offering was that the curriculum is delivered through an online system; this approach to online learning, rather than physically attending a university, saves the apprentice travel time and costs and results in them using their time more effectively on their studies.
Was it an incentive to be able to use the levy fund to pay for Sam's apprenticeship training?
The levy funding is of significant importance to us as an SME; without the financial support that this provides, we would have been unlikely to offer the apprenticeship scheme as the financial investment would have been too great. Alternatively, we would have had to consider paying the apprentice the far lower apprentice hourly rate, rather than the national living wage which we currently adopt. In my opinion, the apprentice hourly rate is not an option and is unsustainable as it does not provide the employee with sufficient income for them to live.
Sam, when you found out you had been accepted onto an apprenticeship and were going to be studying online with UCEM, what were your thoughts?
I had never studied online so I was a bit apprehensive as to how this would work with regards to academic support.  However, the weekly webinars provided much needed interaction with tutors and the support given by UCEM was brilliant.
Not having to travel to university and being able to study at home made things very flexible and saved a considerable amount on travel and expenses.
How did you find your apprenticeship?
I completed my apprenticeship with UCEM in 2020 but in terms of studying with UCEM, I couldn't recommend it more.  The virtual learning environment (VLE) gives opportunity for a great amount of flexibility which is needed when trying to juggle both academic studies and a full-time job.  UCEM were also really good at providing ongoing support through use of an apprenticeship coordinator, who would undertake regular reviews and always be an email away from assisting with any queries or concerns.
I loved the flexibility the online learning offered. It meant that I could juggle work and studying far more easily. It's also a real personal achievement to look back at how far I have come in the last few years. I now help to train and manage our current apprentices and less experienced members of staff, which is a huge responsibility that I am grateful to my Directors for giving me.
Martin, what are the benefits of Sam studying on this apprenticeship for Modus?
The main benefit of the degree course is that it provides the apprentices with the theoretical knowledge that supports the technical on-the-job training that the business provides. The course also covers key aspects, such as the key principles of general law, that would not be covered by work experience.
The apprentice gaining a degree in quantity surveying does not have a direct benefit to the business in terms of income, but it does still have prestige associated with it, which can be used as a marketing tool. The biggest impact to the business is the sense of personal achievement that the apprentice gets from achieving the qualification, this then breeds confidence and self-belief which are key factors in the apprentice's development.
By completing and achieving their degree, the apprentice is then able to continue their professional development and enrol on the RICS Chartership APC process. Being a RICS chartered quantity surveyor is a significant endorsement for the employee and the employer.
We would recommend apprenticeships to any employer, particularly those in the built environment, as it is an industry where on-the-job, practical training is equally as important as qualifications.
What do you think the benefits are of hiring an apprentice?
The benefits of hiring apprentices are numerous but the key benefit to Modus has been that it has enabled us to build our team and grow our business. Historically there has been a significant shortage of experienced local professionals in the industry, particularly in Kent, which due to its proximity to London, often means that young professionals pursue their career in the city rather than locally. After six years of hiring apprentices, we now have a strong team of highly skilled professionals that simply would not have been there to employ. Therefore, if it were not for our investment in apprenticeships, we would not have been able to grow the highly successful business that we now have. So far, we have supported four employees through their complete degree courses, with another two currently studying. Over half of our work force (four out of six surveyors) joined us through our apprenticeship scheme.
Another key benefit is that an apprentice enters the business without preconceived ideas of the industry or what their role is, this allows us to mould them so that the embrace our core values and work ethos and allows us to train them into meeting the specific requirements of our business.
Sam, what are you hoping to achieve professionally in the next few years?
I hope to continue gaining more experience within the industry and working on higher value projects. I am on track to achieving senior surveyor status, whilst also assisting with the training and management of other trainees and apprentices through their technical training and APC process.
Recently winning 'Best Construction Apprentice' at the 2021 South East Construction Awards was a huge professional achievement. The award is rarely given to someone who is no longer an apprentice, but my journey from a school leaver to a chartered surveyor in just six years, really stood out to judges.
Martin, anything else to add?
I consider one of our greatest achievements as business owners has been the development of our apprentices; not just in their professional development but in their growth as a person. The apprentices often join us as young adults, fresh out of school with little experience of life and no experience of a working office environment. For this reason, the initial stages of their apprenticeship are often focused more on their personal development and giving them a general overview of work ethic, attitude and behaviour, rather than technical training. As a result, our interview technique when assessing potential apprentices is based around informal questions such as 'who would you invite to a dinner party and why?' and 'what item would you take with you to a desert island?' These types of questions allow us to see the potential apprentice's personality and character and how they would fit into our team.
As an employer, we are there to nurture apprentices through their development from young adults into confident, highly skilled professionals. As a result, we get to experience them going through key milestones in their lives such as personal relationships forming and failing, moving out of home, buying their first house etc and as an employer, we are there to offer advice and guidance in these aspects as much as we are in their professional work life.
Modus are currently looking for the next apprentice to join their team. If you are interested then please send them an email.
To find out more about employing an apprentice, head to our employer webpage.
To find out more about becoming an apprentice, head to our apprentice webpage.