UCEM alumnus wins construction apprentice award
Posted on: 10 November, 2021
A UCEM alumnus was 'over the moon' after winning a regional construction apprentice award.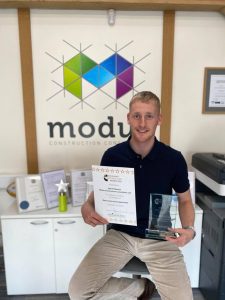 Sam Prideaux, who studied on UCEM's Chartered Surveyor apprenticeship (Quantity Surveying route), won 'best construction apprentice' at the South East Construction Awards.
The quantity surveyor was nominated by two directors at his practice, Modus Construction Consultants, and was selected from a shortlist of four at the awards ceremony.
He commented: "Winning the award definitely came as a surprise as it's really unusual for it to be awarded to someone that is no longer an apprentice. Unfortunately, due to having to self-isolate I was unable to attend the awards dinner in person, but I was over the moon when I found out that I had won!
"It was amazing to be recognised for all the hard work that I have put in behind the scenes and credit to both the South East Construction Expo and my employer, Modus, for providing the opportunity for people like me to be recognised within the industry."
As part of the nomination process, Sam's directors, Martin Munday and Michael Hoggart, answered questions including 'what sets this apprentice out from the others?', 'what is their contribution to the wider team?' and 'what has the impact been on them as a person?'.
In answering why he thinks he was selected as the winner of the award, Sam added: "I think going from a school leaver to becoming a chartered surveyor in just six years is a great achievement and one I'm extremely proud of.
"I believe my journey is a fantastic example of how beneficial apprenticeship schemes are within the industry in giving young people an opportunity to not only further their education and obtain professional qualifications, but also gain valuable on-the-job experience. I hope I can inspire young people to embark on a similar journey to a rewarding career within a fantastic industry."