How sustainability influences my work: Interview with alumnus Jason Ratcliffe
Posted on: 4 April, 2023
Career journey
MSc Real Estate – 2020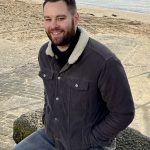 With a history of working in event management following his undergraduate degree, in 2016 Jason changed his career to work as an Estate Agent, and through his MSc Real Estate at UCEM he graduated as an AssocRICS Surveyor and Registered Valuer. Not long after completing his MSc, Jason co-founded a surveying company, Steren Surveyors, in Truro, England. They recently won a Best New Business of 2021 Award from The Cube, University of Plymouth and Santander. Sustainability is at the heart of their approach and as Director of Steren Surveyors, Jason takes great pride in their work towards a more sustainable approach to surveying.
In this interview, he gives us an insight into his experiences of sustainability at UCEM and reflects on how it plays a role in his career.
What were your experiences of sustainability at UCEM?
UCEM very much changed the trajectory of my career and entire life really. I've always had a passion for sustainability and the environment as I live in Cornwall. I like trying to bring my kids up in nature, with National Trusts and beaches around us, and get them to appreciate the environment and the planet we're on. I've always had that underlying passion but then I came to UCEM and it just grew even more. Before UCEM I worked as an Estate Agent, then when I joined the MSc Real Estate it opened my eyes to the world of surveying which I'd never really considered before.
During my studies there was a growing concern of demand for housing and the need to source more sustainable materials. I remember at the time sustainability content across my modules were consistent but sometimes brief. However, I was part of UCEM's second Responsible Futures Audit in 2020 and greatly valued the opportunity to connect with other students from across different courses and to get an insight into what happens behind the scenes at UCEM in relation to sustainability. A huge element of the Responsible Futures work is looking at the embedding of sustainable development within the formal curriculum and during the audit I could see work had been started in this area. Having kept in touch with staff at UCEM I know that sustainability content within programmes has grown substantially since I was a student and with the introduction of the new sustainability MSc I'm excited to see where UCEM goes next.
How do you incorporate sustainability into your job role?
About two years ago now, I set up my own firm of RICS surveyors, Steren Surveyors. I met my business partner, and we started off with a small office in Truro and now we've expanded to our now head office and another office in Exeter with lots of exciting developments ahead.
Becoming Director has enabled me to implement sustainability throughout our organisation. We pledge to Ecologi, to support reforestation. For every survey that we do, we pledge to plant a tree within reforestation programmes and when we selected our office it was of BREEAM excellence.
We've got electric charging points to support staff to drive electric vehicles, and we've also gone as digital as possible, which means everything is typed up and most of which is sent digitally. Although not mandatory it has made a huge difference and we've reduced our paper consumption by around 70% since launching the business.
Alongside my work, I'm doing a PhD in sustainability and insulating buildings at Plymouth University. I enjoy having the opportunity to research and apply my findings to my work. I'm on site a lot, so as a Director and PhD student I get to see the practicalities of certain activities such as types of contractors and products being used in installations, and how these could be more efficient and sustainable.
We're about to launch a new product, The Elemental Cube, at this year's PropTech Show in London. The Elemental Cube is the first of its kind, and it is a portable climate chamber created and developed to ensure an accurately controlled microclimate, that is regulated and maintained using an independent battery cell for the duration required for thermal conductivity data collection testing periods. Alongside this, I'm excited to be presenting my work on dynamic thermal insulation optimisation, based on the building's geographic location and its orientation. Such research is vital to both improving sustainability of construction projects but also the health and wellbeing of the occupants.
In your role or generally across the sector, what do you hope to work on or see implemented in relation to sustainability?
I'm currently working with Cornwall Council, and I would like to continue in this area to get to work with the UK Government to hopefully do my bit in shaping policy on sustainability. I think the more the built environment sector can come together to optimise our approach to building, providing for communities and preserving the natural environment the better, and the more powerful this will be when approaching local and national governments to create positive, legislative change.
There needs to be a change to valuation requirements to account for micro-climates and make it a more dynamic approach with sufficient advice and guidance. For example, I live on the coast so there's a huge variation in geographical differences such as atmospheric pressure, relative humidity, solar glare, wind chill etc. These differences can substantially impact a building but with current regulations it doesn't necessarily account for all of those factors. So when you see it after two, five, or ten years, one side gets hot and the other side starts to get a lot of black spot mold. My research is very much based around that as well. It's about thinking about the building itself, where it's situated, it's orientation, what may be around it.
What do you think UCEM needs to do next in relation to sustainability?
The progress that UCEM has made with sustainability is amazing. From my experience of the first Responsible Futures audit in 2018, through to now where the institution has really taken it on themselves to be the best they can and to continually progress. I personally think that as long this momentum continues, that's the most important thing.
I'd recommend that UCEM utilises people like myself and other alumni, and encourage people to come together again after they've completed their studies. Being part of the Responsible Futures audit was a great example of doing that as a student, but once people graduate, they're more likely to have more of an influence at their place of work and I think it's important that we continue to network and share knowledge and experience. I would like to see more opportunities for alumni to host their own TED Talks or mini-events, raising awareness of sustainability in the sector and continuing to grow and strengthen the network with current students, staff and alumni. The importance of connections is a huge power to UCEM's sustainability work.
If you're a student reading this, get yourself out there as much as possible and if you use social media shine a light on sustainability as much as you can. Push yourself out there and get to know other UCEM students through the Coffee Lounge or WhatsApp groups (this year's Student Officers for Sustainability have launched a student sustainability WhatsApp group you can join). Network and socialise with as many like-minded people as possible and get your thoughts out there, share your passions. If you really like writing, for example, try creating some blogs or social media posts. Promoting good, positive vibes about what's around us and what we should be fighting for is super important.
Who inspires you?
Controversial I know, but to an extent Elon Musk. I think his work on Tesla and SpaceX is really innovative. He's putting forward his version of sustainability and saving the planet via innovation and technological advances. I find the desire to innovate and ambition to try new things inspiring.
What actions do you take in your personal life to live more sustainability?
I enjoy spending time in the natural environment, I go to the Eden Project on a regular basis to the point where my kids could probably map it out in their dreams! Generally, I think my most enjoyable thing is teaching my kids the true appreciation for the planet rather than on materialistic things. I think with each new generation coming through, it's becoming very easy to be sucked into all the products and toys that's marketed and shoved down their throats.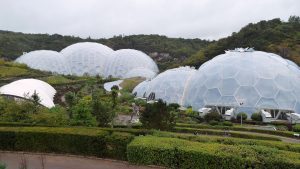 The Eden Project, Cornwall
For me it's finding ways to get them outside, playing on the beach, being creative, making things like stick huts and seeing animals in their natural habitats – things like that I think are invaluable.
If you are a UCEM alumni and would be interested in sharing your story in this interview series, please email Jessica Gordon-Calvert, UCEM's sustainability education & engagement officer via sustainability@ucem.ac.uk.