UCEM's continuing commitment to sustainability recognised with NUS Responsible Futures reaccreditation
Posted on: 28 July, 2020
UCEM made it two successes from two after passing its National Union of Students (NUS) Responsible Futures reaccreditation inspection with flying colours.
Having been awarded the accreditation – which demonstrates UCEM's commitment to promoting sustainability and social responsibility within its curriculum –  for the first time in 2018, the student-led audit this year was successful in the institution gaining reaccreditation.
UCEM exceeded the threshold of 200 points for reaccreditation, surpassing its score of 227 in 2018 with a total of 247 this year. The reaccreditation effort saw eight of our students and apprentices train as NUS auditors and carry out a two-day audit based on 45 criteria at our Horizons HQ in Reading in March.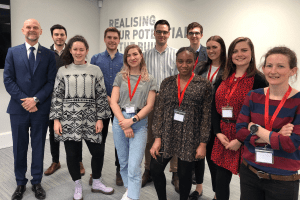 Zamzam Ibrahim, Students Organising for Sustainability UK (SOS-UK) and NUS National President, said: "Congratulations to University College of Estate Management on this significant achievement! Thank you for your dedication to creating a learning environment in which students develop the skills, knowledge, and attributes to be agents of change."
Student auditor and UCEM Chartered Surveyor apprentice, Ese Emefe, commented: "Learning that UCEM is involved in way more than I thought they were in terms of sustainability and, in its general operations, has been eye-opening."
UCEM BSc (Hons) Real Estate Management student, Callum Brown, added: "As a distance learner, this was a great opportunity to meet tutors and students alike, with sustainability embedded at the core, which I believe UCEM are extremely passionate about, and I was pleased to see how much they actually do for the local community and the wider areas."
UCEM's Director of Research, Innovation and Partnerships, Aled Williams, who led on the reaccreditation effort, commented: "I'm delighted that we have achieved our reaccreditation. Since first being accredited, we have analysed the feedback and worked incredibly hard to improve in the areas cited as requiring extra focus so it's particularly pleasing that we have improved on our overall score.
"We are still at the beginning of our journey and will continue to enhance what we do in terms of sustainability, and hope to increase our score again in two years' time!"
Head to the NUS Responsible Futures Feedback Report 2020 for more on the audit, including feedback and opportunities for improvement.