Exploring the great outdoors with Youth Adventure Trust: Guest blog by Donna Rourke-Houguez from UCEM's Marketing Team
Posted on: 27 August, 2019
UCEM gives all employees the option to take a day off each year to volunteer for a charity or community group of their choice. Donna Rourke-Houguez, from UCEM's Marketing Team, used hers to work with Youth Adventure Trust (YAT) and here's what she got up to…
I decided to volunteer for YAT as it combines my desire to inspire young people and my love of the outdoors and adventure. I can honestly say it's the best thing I've ever done and has given me a huge sense of purpose. I knew I wanted to 'give' something, but I wasn't expecting to get so much back in return!
I will be working with the same group of 40 young people over their two-year programme so I get to see them all the way through, which is really rewarding. I met them all on a day session previously and used my UCEM charity day as part of their first five-day long camp at Call of the Wild's Training Centre in the Brecon Beacons National Park in Wales.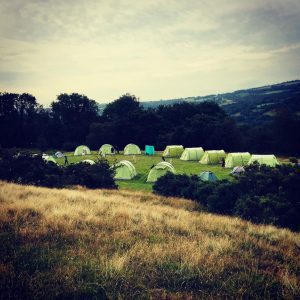 We threw camping, climbing, caving, canoeing, gorge walking, a mountain expedition, team reasoning challenges and a lot of Welsh weather at them, and for many of them, it was their first time away from home. They didn't just cope, they thrived, and watching them all blossom was the best part of the camp. Sitting on the coach on the way back and reflecting on the positive change I could see in everyone's confidence and happiness in just five days was incredible, and a bit emotional, I have to admit!
This was all made possible by the outstanding YAT team – we had lots of training beforehand and were fully supported at all times. Add to this a great bunch of interesting and fun volunteers and you can see why I had a ball. Anyone who knows me knows that despite being very outdoorsy, I hate camping, so for me to say I enjoyed a camping trip so much is kind of a big deal!
I returned to the office revitalised and full of ideas for team-building exercises (I'm not entirely sure the Marketing Team will be keen when I suggest a caving trip though!!).
The Youth Adventure Trust has been using outdoor adventure to inspire young lives for 25 years. They believe that all vulnerable young people should have access to personal development opportunities so that they can fulfil their potential in the future.
As part of that, they understand that learning in an outdoor environment is a key part of a young person's development. Furthermore, they have seen how a long-term, early intervention, starting at age 11, successfully equips young people with the hope, confidence, skills and resilience that will last a lifetime.
They have helped over 3,800 vulnerable young people aged 11–14 by providing more than 27,000 activity days (including outdoor activities, music, arts, woodland and animation workshops).
Thank you UCEM for supporting me to help such a worthwhile cause!
To watch a video summary of the week, go to YAT's Facebook page.
The employee charity day is just one of the benefits staff at UCEM can take advantage of. To find out more about employee benefits at UCEM and to see the list of current vacancies, head to the Jobs at UCEM webpage.