UCEM provides careers advice and guidance to all prospective and current students and also recent graduates.
We are committed to delivering this in a professional, impartial and accessible way, to equip our students and graduates with the skills and knowledge to effectively choose and manage their careers.
The careers service:
Coaches and facilitates you in achieving your career goals
Works with you to identify which career will suit you and to help you develop a career action plan
Helps you to identify the skills you need to develop and progress in your career and plan how you will develop them
To achieve this we provide resources on the Virtual Learning Environment (VLE), with guidance on topics such as: networking, preparing your CV and understanding your career motivations. We have a Careers and Employability Advisor who you can contact for impartial and confidential advice. We also have an online Job Shop where employers advertise a wide range of job opportunities and placements.
The Careers service is offered to all prospective and current students and Alumni up to three years after graduation.
Mentoring
UCEM's mentoring programme connects alumni and students, so that alumni can share industry experience and knowledge with current students. Mentoring can help students to study successfully and develop a better insight into their chosen sector.
To find out more, please read our Mentoring booklet.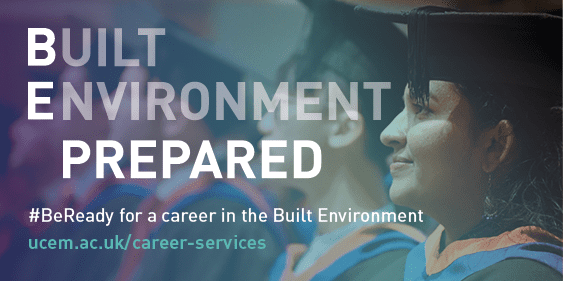 Visit our links below to gain a firmer understanding of the diverse and exciting career options available within the Built Environment!