What you need to know about Saturday's Graduation ceremony
Posted on: 26 June, 2019
The first Graduation ceremony of our centenary year is upon us and we are very much looking forward to welcoming graduands and their guests to Reading Town Hall on Saturday.
Each ceremony is always a special occasion so, to ensure everyone makes the most of the day, we've prepared this handy little guide with all you need to know ahead of Saturday:
Send us your photos!
We will be using photos taken on the day for our official Graduation video. Post your photos via Twitter and/or Instagram tagging @StudyUCEM and using the #UCEMGraduation hashtag to feature in our video. Each post will go into a draw to win £100 worth of UCEM merchandise, plus a bottle of champagne.
We will also have two Graduation event frames – one at the back of the Concert Hall and the other in St Laurence Hall – so you can gather your peers/family/friends for some informal snaps after you've graduated! They're a lot of fun as shown below: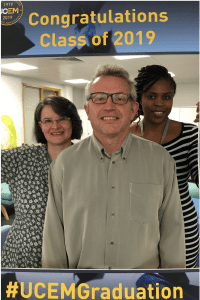 Here's the most recent Graduation video for a taster of what you may feature in:
Not pre-ordered your professional photo? Order on the day!
Ede & Ravenscroft will once again have their studio set up in the Victoria Hall and will be taking professional photos on the day. If you've already pre-ordered, we hope you've identified where your photo will take pride of place at home and if not, you can order on the day.
These photos have long been treasured by graduates and their family and friends, and we wouldn't want anyone to be disappointed by missing out on this opportunity!
Register with our Alumni Association
You will enter Reading Town Hall a graduand and leave a graduate. This special day also means that you will be one of more than 150,000 UCEM alumni since we began training professionals in 1919.
Our Alumni and International Partnerships Manager, Mo Fahey, will be on the alumni stand in the Victoria Hall to help you register with the Association and get your alumni pack. Why bother joining, you may ask? Well, with access to a range of networking, social and professional development events and seminars, 15% off UCEM Online Academy CPD courses, a careers support service for three years after Graduation, 10% off any UCEM postgraduate programme and dedicated groups on social media to stay in touch with your peers, it's well worth the effort! And if that doesn't convince you, then Mo will be more than happy to discuss the benefits in greater detail with you!
Take home a memento
A range of UCEM merchandise will be on sale at the event so whether it's a UCEM hoodie, fluffy Oswald the Owl or an alumni mug you're after, bring a payment card and a bag for your item of choice to remember your time studying with us with fondness (we hope!).
Plan your travel
We want your special day to be stress-free so plan how you intend to travel and where, if applicable, you are planning to park to ensure a smooth start to proceedings.
Bring your ticket!
Having (hopefully) passed the first obstacle of getting to Reading Town Hall without a hitch, obstacle #2 is getting into the venue. Please bring your graduand ticket with you to avoid any delay getting in.
Check timings
You will have received communications from our Graduation Officer, Jeanette Pizzey, with further details about the day. Read this carefully and ensure you know exactly how the day will pan out. With two ceremonies in one day, it's a military operation behind the scenes and your cooperation will ensure that everything goes as planned.
Unable to attend? No problem!
Our Media Team will be live-streaming both Graduation ceremonies on the day so you can head to our YouTube channel to watch the whole event unfold.
We will also be posting photos on our Twitter and Instagram channels so there's no reason (barring alternative plans) why you or a family member or friend can't experience the joy of Graduation.
Have fun!
Most importantly, enjoy it. Graduation is the culmination of years of hard work, alongside your work and personal life, and this is your opportunity to celebrate this achievement with your peers.
The drinks reception is being held at St Laurence Hall next door to the Town Hall and we hope you join your peers and revel in the occasion. This day is about you and you deserve it.
We look forward to seeing you all on Saturday!
#UCEMGraduation