Valuation CPD training for Nigerian delegates in Reading a success
Posted on: 30 April, 2019
World-renowned experts in specialist valuation descended upon Reading for a four-day training conference at UCEM's HQ earlier this month.
Fourteen delegates from CEMRAAN (The College of Estate Management Reading Alumni Association of Nigeria) travelled from Nigeria for the CPD training under the banner of 'Meeting the valuation challenges specific to the Nigerian real estate and oil and gas market'.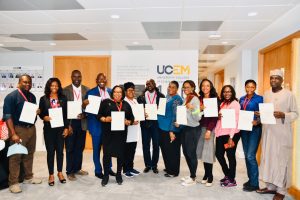 Steven Latta from Glasgow Caledonian University, Philip Wilbourn from Wilbourn & Co, Mike Ferens from Dalcour Maclaren, Olga Razzhivina from Oriel, James Elliott from Elliott Asset Management Ltd and Dr Sean Regan from OnTrack Engineering delivered sessions on subjects including emerging real estate trends, commercial aircraft appraisals, strategic approaches to transportation infrastructure and valuation in the oil industry. UCEM's Dean – School of the Built Environment, Tim Bennett and Valuation Tutor, David Hunt also presented during the conference.
The CEMRAAN delegates, from government departments, private practice and corporations, gave positive feedback about the conference, which followed on from UCEM Tutor, David Hunt's trip to Nigeria to deliver CPD sessions.
CEMRAAN Founder, Johnbull Amayaevbo, who is also the 2nd Vice President of the Nigerian Institution of Estate Surveyors and Valuers (NIESV), commented: "I am going back to Nigeria with huge knowledge that will impact my practice as a valuer. I hope UCEM will continue its relationship with Nigeria so that other valuers in the country will benefit."
UCEM Online Academy Manager, Carmel Smith, who coordinated the visit, said: "We were really pleased with how the event went. The calibre of speakers was very high and the delegates appreciated the expertise they endowed which will make a difference to their own work. It was a successful event and I hope that we will run more events like this in future for the benefit of Built Environment professionals."
If you would like to get in touch with Carmel to discuss possible events, please email academy@ucem.ac.uk.