University College of Estate Management Opens Asia-Pacific Headquarters
Posted on: 25 February, 2016
Reading, United Kingdom, 25 February 2015
University College of Estate Management (UCEM) – a leading provider of supported online learning for the Built Environment – today opened its Asia-Pacific Headquarters in Hong Kong.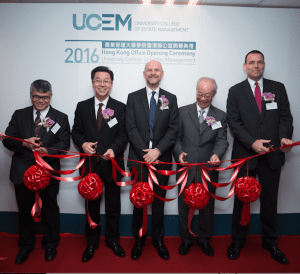 The opening ceremony on 25 February, in Hong Kong, was officiated by Mr Ashley Wheaton Principal of UCEM, Mr Marco Moon Hoi Wu GBS Chairman of Hong Kong Housing Society, Sr Hon Tony Wai Chuen Tse BBS of LegCo for Architectural, Surveying and Planning, Sr Chun-Kong Lau President of The Hong Kong Institute of Surveyors, Mr Chris Brooke of the Royal Institution of Chartered Surveyors (Asia) and Mr Peng Lang Mok President of The Chartered Institute of Building (Hong Kong).
UCEM has been present in Hong Kong for over 40 years – working closely with industry organisations such as HKIS (Hong Kong Institute of Surveyors), RICS (Royal Institute of Chartered Surveyors) and CIOB (The Chartered Institute of Building) – and the region is responsible for 80 per cent of overseas applications. The new Hong Kong office cements UCEM's commitment to those seeking to start or further a career in the Built Environment in Asia Pacific, through a range of property-related programmes at undergraduate and postgraduate level and CPD courses.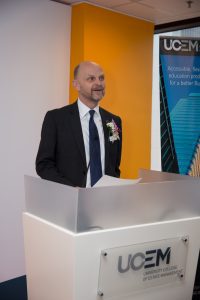 Ashley Wheaton, Principal at UCEM, commented, "I'm extremely proud to announce the opening of our Hong Kong office, which will provide a platform for UCEM in the Asia Pacific region and further demonstrate our commitment to the region. We've been present in Hong Kong for a long time, and we're now looking to strengthen our position within the market and help it grow.
He continued, "We're continuing to work closely with HKIS and other industry organisations to identify and deliver CPD needs. Our dedication to ensuring that our students benefit from high quality and prestigious qualifications only continues, and I'm very much looking forward to seeing this grow in Asia-Pacific."
Lau Chun Kong, current President at HKIS, commented, "UCEM provides an online learning platform which allows great flexibility. Many students benefit from this and have gone on to become professional surveyors."
Chris Brooke, Vice President at RICS commented, "Given the importance of educating and training the professionals of the future, it's excellent to see UCEM taking this step."
Mok Peng Lam, President at CIOB Hong Kong also commented, "The opening of the Hong Kong office will no doubt provide better support and it is greatly beneficial to students in Hong Kong."
UCEM supports over 3,000 students from approximately 100 countries and will continue to grow its physical global presence – the next office opening is planned for the UAE region in 2017.