University College of Estate Management recognises Built Environment winners at its 29th Property Awards
Posted on: 21 October, 2016
Industry leaders and UCEM alumni and students recognised for outstanding contribution to a better Built Environment
Ros Kerslake OBE, Heritage Lottery Fund CEO, wins 2016 Property Award
Reading, United Kingdom, 19 October 2016 –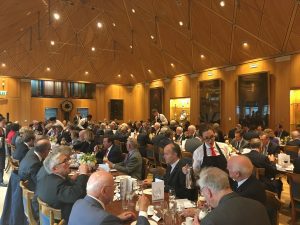 The University College of Estate Management (UCEM) – leading provider of supported online learning for Built Environment professionals – hosted the 29th annual prestigious Property Awards at Haberdasher's Hall, London, on Friday afternoon.
The UCEM Property Awards bring together leading industry figures and UCEM staff, students, alumni and Honorary Fellows to recognise exceptional careers within the Built Environment. UCEM has presented its 'Property Award' to a person or organisation that has made an outstanding contribution to the property sector every year since 1987 – regardless of any direct affiliation with UCEM itself. The awards also recognise UCEM alumni for their contribution, throughout their early careers, to a better Built Environment – and students whose work has been highly commended for its academic excellence.
The winner of the 29th overall 'Property Award' was Ros Kerslake OBE, Chief Executive of the Heritage Lottery Fund and the National Heritage Memorial Fund. Ros was awarded an OBE in this year's New Year's Honours list for her services to British heritage.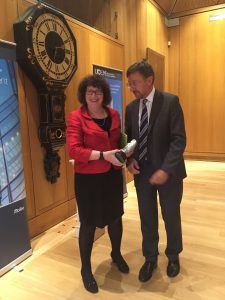 This latest award recognises her continuing and excellent contribution to the Built Environment – especially within regeneration and the role it plays in making people's lives better – as well as her work in promoting the industry amongst women.
Ros Kerslake OBE, commented, "I'm thrilled to receive the Property Award from UCEM, and very honoured to be following in the footsteps of such luminaries of the property world. It's particularly pleasing that the award recognises the value of work in regeneration and heritage, and the key role that they play in effective place-making"
The winner of this year's 'Alumni of the Year' award was Pavel Streblov. He completed his MSc in Real Estate Management with UCEM in 2013. Since then, as a Project Manager for Penta Investments, he has been responsible for the success of the award-winning Waltrovka redevelopment in Prague – as well as several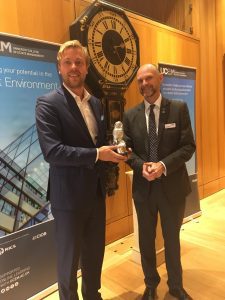 other landmark projects. In addition, Pavel is very active in the Prague real estate community and guest lectures at Charles University.
Pavel Streblov, remarked, "I am very surprised and delighted to get this award. I am proof that UCEM Alumni are truly international and that there is a growing alumni community in Central Europe."
The winner of the 2016 "Academic Excellence' award was Deborah McGhee. She decided to continue her academic development through UCEM, while working as the Head of the Estate and Property Management division within a prime London boutique agency. While undertaking an MSc in Conservation of the Historic Environment, Deborah submitted an excellent dissertation investigating the significance of Canterbury Music Hall within Britain's cultural heritage. Deborah is currently guiding tours of London, actively engaging the wider public in our heritage.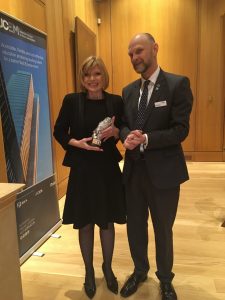 Deborah McGhee, commented, "Although the last seven years have required determination and perseverance, this all pales into insignificance on receiving the award for Academic Excellence. The knowledge and tools that I have gained through studying at UCEM have been the underlying factor for the success I have achieved as a property professional to date, and have provided me with the confidence and enthusiasm to continue with my professional development in the future."
Ashley Wheaton, Principal at UCEM, said, "I was delighted to be in the presence of so many esteemed guests and supporters of UCEM, and recognise even more outstanding achievers within the Built Environment at our 29th Property Awards. It's been a momentous year with 'university college' title, a Hong Kong office, and the move to our new HQ – for which we've been awarded a BREEAM rating of 'Excellent'.
He concluded, "The need for highly qualified graduates in our industry has never been more apparent, and our role as an institution has never been more important in making sure we not only set an example of what can be achieved but support everyone in their Built Environment career".