University College of Estate Management moves to new, fully sustainable premises
Posted on: 9 September, 2016
UCEM office refurbishment receives certified BREEAM 'Excellent' sustainability rating, highest in the UK education sector
Reading now home to two universities with arrival of the university college in the town centre
Reading, United Kingdom, 9 September 2016: University College of Estate Management (UCEM) – leading provider of supported online learning for Built Environment professionals – has announced, that after more than four decades based on the Whiteknights Campus, it has moved to new premises in the centre of Reading.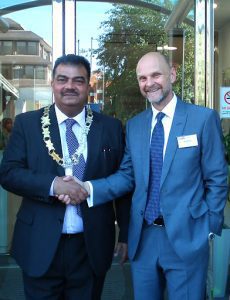 After receiving 'university college' status last year, this move marks the next step in UCEM's development – and further establishes its independence as the leading provider of online education for the Built Environment. The move has also provided UCEM with the opportunity to showcase its commitment to sustainable construction, by refurbishing its new premises – christened Horizons – to the highest levels of sustainability. The property has been assessed and certified as 'Excellent' on the prestigious BREEAM rating scale (the world's leading sustainability assessment method); it's one of the highest scores recorded in the UK, under the dedicated 'Refurbishment and Fit Out Scheme 2014', and currently the highest in the education sector.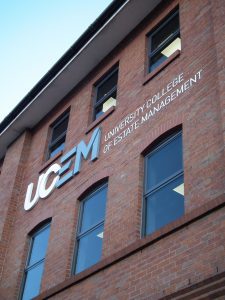 The sustainability measures UCEM has incorporated into the existing 1980s building – with support from Overbury, office refurbishment specialists – include solar panels, energy-efficient heating and cooling systems, low-power LED lighting, water control sensors, recycled waste, sparrow boxes, environmentally friendly VOC free paint, and even carpets harvested from discarded fishing nets, while future plans include beehives. And UCEM's sustainability commitment isn't confined to the site itself, in addition, a range of sustainable transport options for staff have been implemented; including 'green' transport subsidies for bus and train travel, a cycle to work scheme, and electric car terminals.
The grand opening, yesterday evening, was officiated by the Mayor of Reading who performed the ribbon cutting. He declared the new office open, and welcomed UCEM into the centre of Reading. Martin Townsend, Director of Sustainability at BRE, officially presented the BREEAM Excellent certificate.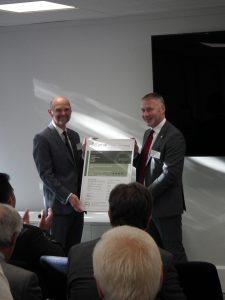 Martin commented, "I would like to congratulate everyone involved in this project for securing a BREEAM Excellent rating, and with such a high score. This building is an exemplary example of sustainable development and a showcase of what can be created through close collaboration and working towards a common goal."
Ashley Wheaton, Principal at UCEM, said, "We are delighted to have been officially welcomed by the Mayor into our new home in the centre of Reading – and the award of an 'Excellent' under the BREEAM certification standard makes this an extra special occasion. We are very proud of the efforts we have made in regards to upholding our commitment to sustainability, and are honored to be recognised by BRE in this way.
He added, "Despite the challenges associated with moving into an existing 1980s building, we achieved a highly sustainable outcome to the refurbishment project – with help from our partners at Overbury, Hilson Moran and GVA. And created an amazing environment for our staff, and their health and wellbeing. As one of the two Universities in Reading we are looking forward to a long and happy future at Horizons"