University College of Estate Management Launches Senior Leader Master's Degree Apprenticeship
Posted on: 10 January, 2018
University College of Estate Management (UCEM) will launch its first postgraduate apprenticeship programme in March 2018, following approval of the new Senior Leader Master's Degree Apprenticeship.
This programme is designed to develop a specially selected group of leaders who can contribute to the future success of the Built Environment sector. The apprentices will study UCEM's accredited MBA Construction and Real Estate programme and develop management and leadership skills in the workplace. On completion, they will achieve Chartered Member or Chartered Fellow status, awarded by the Chartered Management Institute (CMI).
The programme is targeted at those in senior leadership and management roles who need training to develop the knowledge, skills and behaviours set out in the apprenticeship standard. It is open to employers of all sizes, including those who pay the Apprenticeship Levy and smaller employers who don't.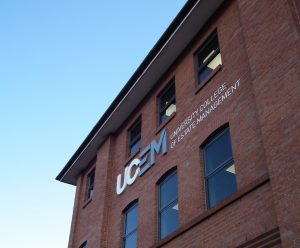 UCEM Principal, Ashley Wheaton, said, "UCEM is already the largest provider of Chartered Surveyor and Surveying Technician apprenticeships, working with over 120 employers to deliver their apprenticeship training. We are excited to be offering a leadership apprenticeship programme tailored to the needs of the Built Environment, using our well-established online delivery model. This will help to equip the future leaders of our sector with the required skills to meet the challenges that lie ahead."
Keith Richardson, Head of HE Partner Development at CMI, commented, "UCEM is very well-placed to deliver this apprenticeship programme as it works so closely with key employers in the sector it serves. It specialises in helping people in the workplace to develop their careers and achieve professional qualifications. We look forward to taking our partnership with UCEM to a new level."
To be accepted on to the programme, applicants will need to be based in England and meet a number of eligibility criteria; these include fulfilling academic entry requirements and demonstrating that their employment situation will provide the relevant workplace training and assessment requirements.
For further details, please take a look at the apprenticeships section of the UCEM website or contact the Enterprise Business Development team at businessdevelopment@ucem.ac.uk.
Note to editors:
University College of Estate Management is a leading provider of supported online education for the Built Environment; with over 90 years' experience in providing the highest quality learning opportunities for the industry. At any one time, it has over 3,000 students from approximately 100 countries benefiting from its degrees taught by tutors with extensive industry experience.
UCEM offers many property-related programmes at undergraduate and postgraduate level, as well as providing professional development and tailor-made corporate training courses. Its active research programme contributes to knowledge across the profession, benefiting businesses, practitioners and policymakers alike.
If you have any further questions, please contact Stephen Bartle, UCEM Head of Commercial and Business Development at  s.bartle@ucem.ac.uk or call 0118 921 4684.