UCEM's innovative online sustainable project awarded 'Highly Commended' at Green Gown Awards
Posted on: 14 November, 2018

UCEM was recognised with a 'Highly Commended' accolade at last Thursday's sustainability-focused Green Gown Awards.
The institution's 'Sustainable futures through online learning' project gained the 'Highly Commended' stamp of approval at the awards ceremony in the Next Generation Learning and Skills category.
UCEM was one of 26 educational institutions from the 87 finalists to win an award at the ceremony in York.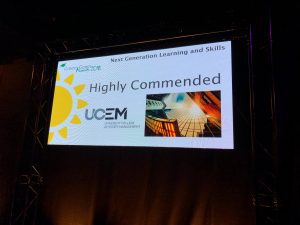 UCEM Principal, Ashley Wheaton, commented: "It means an enormous amount to win this award to gain formal recognition of our incredible work. We want others to follow and adopt the same approach so that the work we're doing is vitally important to us in helping to scale this and catalyse others to do the same."
The project saw UCEM's Online Education Department create educational resources designed to equip learners with sustainability skills through the use of cutting-edge case studies and technologies. The aim of the project was, and still is, to develop employer-focused provision which involves developing more accessible and inclusive technology-enhanced learning strategies to meet the needs of the Built Environment sector and professional accrediting bodies.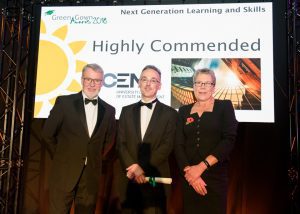 UCEM's Director of Research, Innovation and Partnerships, Aled Williams (centre), with award hosts, Iain Patton (EAUC CEO) and Helen Browning OBE (Soil Association CEO).
The judges' notes on the project included the following: 'A clear, well quantified project. Demonstrates well thought out planning for future development and investment in up-front sustainable systems. Benefits for graduates and local communities are likely to follow as the campus is developed but appear to be limited at present.'
The awards, administered by the Environmental Association for Universities and Colleges (EAUC) and established in 2004, recognise exceptional sustainability initiatives being undertaken by universities and colleges across the UK and Ireland.
EAUC CEO, Iain Patton opened the awards and said: "Tonight's celebration emphasises the role of education in enabling and empowering young people to tackle the pressing global issues we are all facing. In their commitment to meeting the Sustainable Development Goals, universities and colleges across the UK and Ireland are proving that they are leading through their research, enterprise and education for the next generation that we need to provide the solutions."
For more about the Green Gown Awards and to read more about UCEM's submission in the winners' brochure, visit www.greengownawards.org/2018-winnersxcfde