UCEM's centenary toasted by students and alumni in London
Posted on: 12 September, 2019
Hundreds of students and alumni came together in London yesterday to toast UCEM's centenary. 
The celebration at Lincoln's Inn – a stone's throw away from UCEM's original home at 35 Lincoln's Inn Fields – saw guests hear from three esteemed alumni speakers, view an exhibition of peers' work on sustainability and enjoy a glass of champagne with canapes.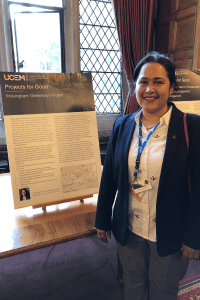 Preeti Chatwal-Kauffman with her shortlisted project at the Projects for Good Exhibition
The theme of the evening was 'Projects for Good' with students and alumni, first, looking through the 13 displays showcasing the projects by their peers created in response to UCEM and the National Union of Students' (NUS) Projects for Good initiative. The shortlisted entries demonstrated the efforts made by students and alumni to create positive change in their workplace by undertaking a socially, environmentally or economically sustainable project.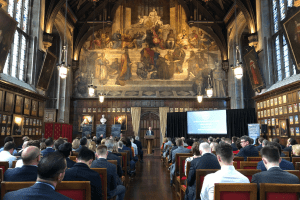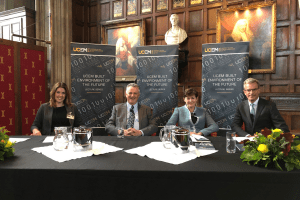 UCEM Principal, Ashley Wheaton, gave a welcome address before Howard de Walden Estate Chief Executive, and UCEM Trustee, Andrew Hynard introduced the speakers in The Great Hall.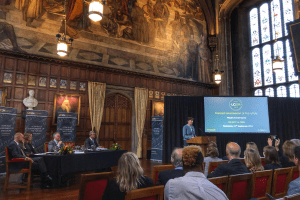 Dame Alison Nimmo DBE, the first female CEO of The Crown Estate, discussed her glittering career in the industry which has taken in many projects for good, including London 2012 and the rebuilding of Manchester after the city was bombed in the 1990s. Dame Alison paid tribute to the UK's first female surveyor, Irene Barclay, who was an alumni of UCEM, and how she blazed an important trail in the industry.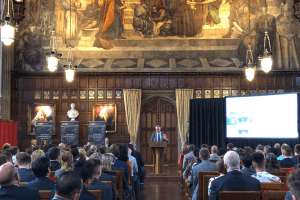 Tenman Project Management Development Consultant, Michael Moir then talked through his work for the Hong Kong Jockey Club on Tai Kwun – a centre for heritage and arts offering culture and leisure experiences for the public in Hong Kong – which encountered many challenges before completion which were overcome by the planning team.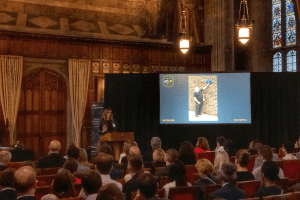 Aldi Property Director, Lucy Winzer, gave the final presentation on the importance of community involvement and a people-first approach when acquiring property. Lucy's project for good focused on Aldi's acquisition of an important community building in Coulsdon and how goodwill was engendered by the discount supermarket's work in securing a blue plaque to mark the building's historical significance. 
Ashley Wheaton finished with his closing remarks, thanking the speakers for their excellent contributions at such a special event, before attendees enjoyed champagne and canapes with their fellow students, alumni and UCEM staff. 
UCEM Deputy Principal, Jane Fawkes, reflected: "What a fantastic evening! It was a joy to celebrate our centenary with so many students and alumni and hear their stories of perseverance and success in the industry. 
"The 13 Projects for Good on display provided brilliant examples of our students' and alumni's commitment to the sector and agility to create sustainable solutions in a changing world. The speeches from our alumni really drove home the theme of the evening and provided inspirational tales for both current students and fellow alumni. 
"I hope all who attended took a lot from the evening and enjoyed meeting so many professionals from the sector who are united by their association with UCEM."