UCEM's Built Environment Apprenticeship Awards 2023
Posted on: 10 February, 2023
Winners of UCEM's Built Environment Apprenticeship Awards 2023 were announced at a presentation and networking event held in London on Thursday 9 February. The Orangery, in Cavendish Square provided a wonderful example of the built environment where old meets new, and set the tone for an inspirational and engaging evening.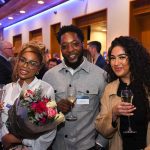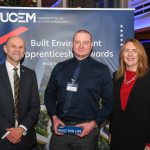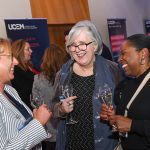 Taking place during National Apprenticeship Week the awards celebrated the individual achievements of apprentices and their employers and also highlighted the crucial role that apprenticeships play in the built environment.
In his welcoming speech Ashley Wheaton, Principal, shared how far the University has come since launching with 125 apprentices in 2015 to over 1,900 by spring 2023. He also said: "It is an enormous privilege to play a part in training the next generation of professionals in our field. If there were ever a time when the built environment really needed an influx of fresh talent, that time is now."
Focusing further on how apprentices can promote diversity and inclusion, guest speaker, and UCEM Chair of the Board of Trustees, Amanda Clack said, "We need more visible role models telling their stories to help inspire the next generation. Many of our shortlisted nominees are actively engaged in outreach to schools and communities, encouraging people from all walks of life to consider apprenticeships in the built environment. I'd like to express my gratitude to all of you for everything you are doing to bring new voices and fresh perspectives to our sector."
Celebrating their accolades along with nominated and shortlisted candidates, UCEM key staff and apprenticeship support teams, the winners exemplified the diversity and impact apprenticeships have. Read below, the winners' thoughts from the night and their full stories on our Winners 2023 page.
The winners
This year there were seven categories, widening the nominations to include different types of employers and the 'rising stars' of apprenticeships. With 78 compelling nominations, the panel had a difficult time selecting the winners.
For the Employer Representative category, recognised for their unwavering support for apprentices, the winners were: Vicki Palmer from Hollis (large employer), Louise Theobald, Readie Construction, (SME) and Ryan Lund from the Valuation Office Agency (public sector).
In the largest category, Apprentice of the Year, there were two awards, one undergraduate and one postgraduate, presented to Annabel Huffer of Eddisons and Carl Wright of Solomons Europe.
For the Rising Star category, new for 2023, apprentices in their first year of study were nominated. Tamzin Love, selected for the undergraduate award, was recognised by the panel for performing at a high standard and engaging in additional activities such as school sessions and diversity workshops.
The postgraduate award went to Raffles Fulton, for amongst other things making a significant contribution to the business in each of his rotations, he said; "To be nominated for and then win the 'Rising Star' award is a real honour. My academic work as well as university and extracurricular achievements was recognised, and I thank you for that. The Rising Star award will be proudly displayed on my desk at work and I will do my best to live up to the expectations of Countryside & UCEM!"
The final presentation was the Principal's Choice Award. This award recognised one individual from the Apprentice of the Year and Rising Star categories whom the judging panel felt exemplifies UCEM's core values of passion, excellence, integrity and support.
The winner of this award was Annabel Huffer, selected by the panel for her passion to bring about diversity in the built environment, her advocacy for apprenticeships, excelling at work and in her studies, and supporting new professionals in the industry. Ashley Wheaton said: "Annabel sets a shining example for the rest of UCEM's student body."
Annabel commented after the event, saying "It is a huge and unexpected honour to win both the Apprentice of the Year Award and Principal's Choice Award; thank you to all involved with the evening, it was a fantastic opportunity to meet staff, tutors, and fellow apprentices at UCEM. My thanks must also go to my wonderful colleagues and employers who have provided unwavering support and shared their knowledge and expertise with me at every available opportunity. Being a UCEM apprentice has been very rewarding, and the support and guidance provided by them throughout has been exceptional. I look forward to continuing to support my fellow professionals, the next generation of surveyors, and UCEM for many years to come."