'@UCEMJobs joins Twitter!
Posted on: 29 August, 2019
A new Twitter account dedicated to promoting job vacancies and the employee experience at UCEM is launching today.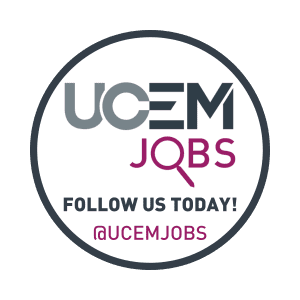 The @UCEMJobs account will be run by the HR Team who will detail opportunities to join the institution, showcase employee benefits and capture the experiences of its staff.
HR Administrator/Adviser, Lily Rogers, is taking the initiative forward and she said: "UCEM is a fantastic place to work and I'm excited to get the opportunity to demonstrate this, as well as inform potential applicants about upcoming vacancies to join the team via Twitter.
"Employees are encouraged to live the UCEM values of Passion, Support, Integrity and Excellence, and this is something I'll be promoting in my messages, particularly as these values embedded in our interview process.
"Twitter provides the perfect format for short, snappy messages to go alongside eye-catching graphics and I look forward to extending the reach of our HR Team on the channel. It will be an informative account, but I hope also fun too!"
The @UCEMJobs Twitter account joins the main @StudyUCEM account and the Online Education Department's @UCEMOnlineEd account as UCEM's presence on the social media channel grows. Sign into Twitter, search @UCEMJobs and hit the 'Follow' button for all the latest!