UCEM wins prestigious Green Apple Gold Award for its sustainable Horizons office refurbishment
Posted on: 19 June, 2017
The refurbishment of the UCEM office 'Horizons', already recognised as 'Excellent' on the BREEAM rating scale (the world's leading building sustainability assessment method) has now been further recognised through a Green Apple Gold Award for its environmental and social benefits, innovation, economic and environmental impact as well as UCEM's commitment to educating others about the project approach.
Run by The Green Organisation, the Green Apple Awards are a key part of the annual international campaign to recognise, reward and promote environmental best practice around the world. Launched in 1994, the awards have become well established as one of the most popular environmental campaigns and recognition schemes, both in the UK and internationally.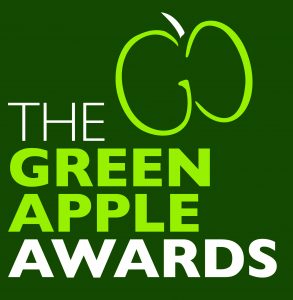 Ashley Wheaton, Principal at UCEM, said, "It's fantastic to win the Green Apple Gold Award and to be recognised by The Green Organisation for the work undertaken as part of our move to Horizons. Despite the challenges associated with moving into an existing 1980s building, we achieved a highly sustainable outcome to the refurbishment project – with help from our partners at Overbury, Hilson Moran and GVA. We are very proud of the significant efforts we have made in regards to upholding our commitment to sustainability."
He added, "We've created an amazing environment for our staff, supporting their health and wellbeing. Asa University dedicated to vocational education within the Built Environment we look forward to a long and happy future at Horizons."
UCEM has produced an interactive case study about the project, available here via its Online Academy.
For more news and updates, visit UCEM on Twitter, Facebook & LinkedIn.