UCEM Tutor delivers CPD sessions to more than 200 people and meets with alumni in Nigeria
Posted on: 2 January, 2019
A UCEM Tutor delivered CPD sessions to more than 200 people and networked with alumni and real estate professionals during a week-long visit to Nigeria.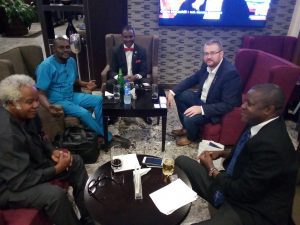 Valuation Tutor, David Hunt spoke on the theme of 'International valuation approaches for the West African market' during three, day-long CPD sessions in Enugu, Lagos and the Nigerian capital, Abuja, respectively.
David also hosted an informal alumni event in Lagos attended by five former UCEM students and was invited to present an award at an industry gala in Enugu during his visit last month.
The bespoke valuation training event was created by UCEM in partnership with CEMRAAN [The College of Estate Management Reading Alumni Association of Nigeria] at the request of their Founder, Johnbull Amayaevbo, who is also the 2nd Vice President of the Nigerian Institution of Estate Surveyors and Valuers (NIESV).
David said: "It was a very worthwhile trip. It wasn't just an opportunity to provide training but also increase the exposure of our institution. I also had the privilege to learn about some local approaches to real estate management and valuation.
"I was able to meet fellow academic, as well as valuation industry, colleagues and we managed to add a small alumni event in Lagos. The alumni event was a highlight because three of the attendees were unable to obtain visas for our Graduation ceremony in the UK so my visit on behalf of UCEM meant a great deal to them, especially as I taught one of them.
"I was reminded that the first real estate professionals in Nigeria studied with us. Many people I met spoke fondly of The College of Estate Management. The trip was a chance for UCEM to build on that goodwill."
UCEM will be hosting a four-day CPD event for Nigerian delegates, covering specialist valuation techniques at its Horizons HQ in Reading in April as the institution looks to further its relationship with the country's industry professionals.