UCEM student wins UK real estate award
Posted on: 8 May, 2019
A UCEM student was 'overwhelmed and honoured' after winning in her category at a UK real estate awards ceremony last week.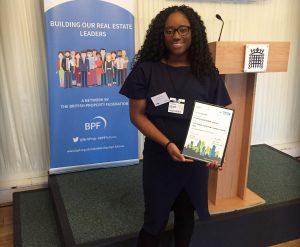 MSc Real Estate student, Sarah Hayford won the BPF [British Property Federation] Futures Promoting the Industry Award at the BPF Futures Tomorrow's Leaders Awards ceremony last Thursday (2 May).
Sarah was recognised for her work in founding The Land Collective – an online platform aiming to engage young people with the property market and built environment – in winning the award which goes to someone who has brought a new idea or initiative to help change the way the business or the industry is perceived.
After winning the award, Sarah said: "I feel so overwhelmed and honoured to have won such an award! To have The Land Collective recognised in such a positive way, and to hear many compliments at the awards ceremony in relation to my work is heart-warming.
"The Land Collective team and I are very excited to see how the platform grows and develops this year, with much more in-store for our readers and followers. It feels amazing to go be going into the second half of the year on such a high!"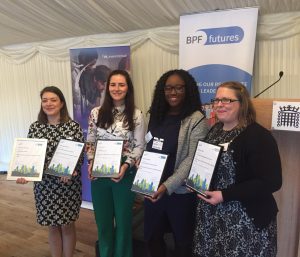 Sarah was one of three UCEM representatives at the awards ceremony at the Houses of Parliament with alumna, Sophie Walker and Associate Tutor, Yohance Harper nominated in categories too.
The BPF Futures Tomorrow's Leaders Awards celebrate the UK real estate industry's rising stars. For a full list of winners and nominees, visit www.bpf.org.uk/bpf-futures-tomorrows-leaders-awards-2019. To find out more about The Land Collective, visit http://thelandcollective.com/.