UCEM staff present at the Innovations in Built Environment Education 2017 conference
Posted on: 12 September, 2017
Four UCEM staff members presented at the Innovation in Built Environment Education (iBEE) 2017 conference last week.
UCEM's Nikki Bulteel and Karl Bunting presented on 'Alternative Assessments in Law'; Graeme Whitehall gave a talk on 'Beyond disruption and technological bedazzlement: brave new horizons in the built environment digital dissertation'; and Aled Williams, along with project consultant, Kath Galloway ran a workshop entitled 'Degree Apprenticeships in Construction and Built Environment: Emerging Landscape and Trajectory to Fuller Implementation'.
The conference, which was hosted at Birmingham City University, saw around 60 Heads of Department and Academics attend over two days to hear more on this year's theme of 'Learning Matters'.
All the presentations received positive feedback with plenty of interaction from the audience and Aled's workshop proved so popular that a stand-alone event is already being considered.
Aled, UCEM's Dean – Research, Innovation and Partnerships, said: "It was great to hear about departments and schools challenging the learning experience of their students in order to deliver academic excellence".
"The highlight for me was speaking with delegates about the Chartered Surveyor Degree Apprenticeship, of which UCEM are the largest provider."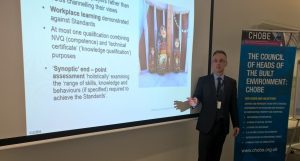 The conference is an annual built environment education event sponsored by CHOBE (Council of the Heads of the Built Environment). The aim of the conference is to help build up a community of built environment education practitioners who can share best practice, support and converse with one another.