UCEM programme leader wins seat on RICS Governing Council
Posted on: 26 May, 2022
A UCEM programme leader will contribute towards shaping the future direction of academia and education for RICS professionals after winning a seat on the professional body's Governing Council.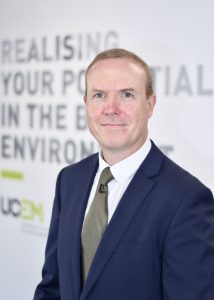 David Hourihan, who leads on UCEM's MSc Real Estate programme, will take the 'academia and education seat' on the RICS Governing Council on 1 July, 2022, after earning the most votes during the elections.
As outlined during his campaign, David pledges to focus on three main challenges in the role; namely: to promote inter-disciplinary engagement which aligns with RICS core values; to attract a wider pool of talent to our industry; and to improve ethical standards at grassroots level so that upcoming professionals adopt the highest ethical standards from the beginning of their careers.
David, who will take up the role in an independent capacity, comments: "I very much look forward to progressing my election pledges to work on behalf of RICS with educational institutions to develop curricula that meets the needs of our construction and real estate industries on key topics such as sustainability, digital technologies and apprenticeship training. I will also promote ethical standards, inter-disciplinary engagement and seek to attract a wider pool of talent to our industry."
As a member of the Governing Council, David will play his part in implementing the recommendations made in the report which will be published in response to Lord Michael Bichard's independent review of the RICS's purpose, governance and strategy. The report will advise on values, culture and strategy for the Governing Council to take forward.
Head to the 'RICS Governing Council Election Results' webpage for more details on the elections and further reaction from the Governing Council Chair (Interim), Nicholas Maclean, and the other newly elected members.