UCEM programme leader to run webinar series on office investments across Europe
Posted on: 13 May, 2021
UCEM's real estate programme leader, David Hourihan, will share his expertise on office investments across four webinars next month.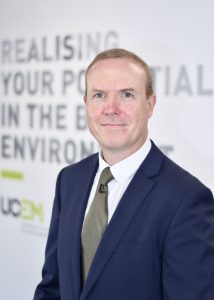 David is leading the 'an introduction to office investments' series which will take a critical look at how the office investments markets have fared over the past 12-18 months in London, Dublin, Paris and Frankfurt, respectively.
The series is being coordinated by real estate training company, Bayfield Training, in partnership with UCEM.
David commented: "Keeping up to date with real estate markets is a passion of mine, and I have wanted to run such events for a while now. Finding the time, however, with my programme leader commitments has proven to be tricky but I am delighted the webinar dates are now in the diary.
"I would like to thank Bayfield Training for its support in getting this off the ground. The research I have carried out in preparation for the webinars has been fascinating and I, along with my guest speakers, look forward to sharing our findings with attendees."
Joining David for the London, Dublin and Paris webinars are Freya Morrow – associate valuation surveyor at Matthews & Goodman, Lucy Connolly – divisional director for Bannon and Sinéad Murphy – senior valuer at Knight Frank and a UCEM MSc Real Estate alumna, respectively.
For further information and to register to attend, visit www.youtube.com/watch?v=C4nmYz32vdI&t=8s