UCEM places 13th in list of best 50 training providers
Posted on: 1 August, 2023
UCEM has achieved its highest ranking yet in the RateMyApprenticeships awards for the Best 50 Training Providers.
UCEM's presence in the apprenticeships market continues to grow. This month, we came 13th in a list of the 50 Best Training Providers at the RateMyApprenticeship Awards Event – a jump of five places from last year's results. What's more, Savills – one of our largest clients – has been named the top employer for the second year running in the list of the top 100 apprenticeship employers.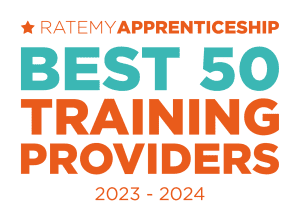 RateMyApprenticeships is a leading job resource for young people searching for apprenticeships, hosting over 48,000 reviews from students. Now in their seventh year, these awards are based on real apprentice reviews and provide a stamp of authority for learning institutions across the UK.
UCEM were one of only 19 Universities to make the top 50, and the third-highest ranked behind Manchester Metropolitan University and Nottingham Trent University.
Below are some reactions to the news from our Apprenticeships team:
"This is great news. We have worked hard as an Apprenticeship team to provide the right support, information, advice and guidance to apprentices and their employers." – Rebecca Bickerton, Head of Apprenticeship Outcomes
"I am incredibly proud of the team, and most importantly how we work together to ensure the apprentice and employer are at the heart of everything we do. We listen and action and most importantly we care!" – Sarah Oliver, Apprenticeship Outcomes Manager
"This is an excellent achievement in which I feel incredibly proud, a great reflection of our consistently hardworking teams and the care that we all share for our apprentices." – Laura Marriott, Apprenticeships Outcomes Officer
"Moving up positions shows that despite the growing numbers of apprentices that we are experiencing, we are maintaining high standards and continue to improve upon our processes. This shows we listen to student feedback to enhance their overall experience." – Alex Martin, Apprenticeships Outcomes Officer
"This is testament to the hard work put in by various UCEM teams and the excellent relationships that the AOO's develop and maintain with their caseloads. Proud to be a part of a team that helps apprentices realise their potential." – Leah Thorne, Apprenticeships Outcomes Officer
A huge thanks to all the teams and individuals who work so hard to support our apprentices!
The full results of the latest RateMyApprenticeship Top Training Providers and Employers rankings will be released on their website in October.