UCEM officially launches its centenary year!
Posted on: 11 January, 2019
UCEM officially launched its centenary year on Monday (7 January).
The calendar of celebratory events and activities to mark 100 years of UCEM was revealed to staff by Principal, Ashley Wheaton, and Deputy Principal, Jane Fawkes, at the institution's HQ in Reading.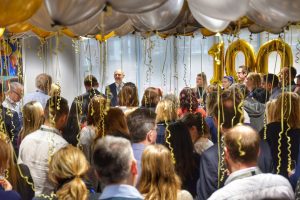 Among the list of events are the showpiece Built Environment of the Future event in London which will include three lectures and a morning in which schoolchildren will be signposted to careers within the sector, doubling up as a Guinness World Record webinar attempt; a history exhibition in Reading; and a public evening lecture in collaboration with homelessness charity, Launchpad, on housing for good at Reading Town Hall.
Launch day also saw the publication of a dedicated centenary section on the UCEM website, including an online shop selling bespoke merchandise and compelling stories from the institution's archives.
A number of aesthetic changes to UCEM's Horizons office were made to mark the occasion with a flag featuring a new centenary logo now outside the building, another new logo emblazoned on the floor in Reception and an updated institutional timeline mural on the wall outside the kitchen.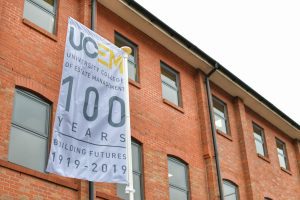 Staff were invited to head to the suite on the ground floor where they were invited to take a centenary-themed cupcake and a glass of orange juice or prosecco while looking around the room at some of the assembled artefacts from UCEM's history vaults.
Ashley and Jane then revealed the plans for the centenary in the balloon-filled room before Jane invited everyone to toast UCEM's first 100 years.
UCEM Principal, Ashley Wheaton, remarked: "We have been building towards this day ever since I joined the institution in 2013 and I was honoured to share the plans for our centenary year.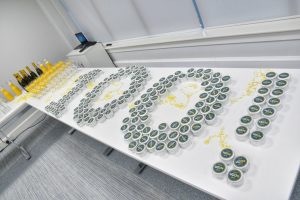 "A huge amount of effort has gone into organising a suitable calendar of events and activities and I don't think the team behind planning the celebrations, led by Jane Fawkes, could have done a better job. There is something for everyone, whether staff, student, alumni, worker in the sector or someone generally interested in the Built Environment or contemporary history.
"I am delighted that our centenary year is finally upon us – a fantastic achievement for any organisation – and I look forward to engaging with the wide range of people involved and affected by our holistic set of activities and events during the next 12 months."
For more on the centenary year, visit www.ucem.ac.uk/centenary or visit www.ucem.ac.uk/ucem100launch for more on Monday's launch.