UCEM completes second NUS Responsible Futures audit
Posted on: 18 March, 2020
Several students and apprentices scrutinised UCEM's sustainability credentials as part of the institution's National Union of Students (NUS) Responsible Futures reaccreditation effort last week.
Eight NUS-trained student auditors led the two-day event at UCEM's Reading-based HQ, judging the institution on 45 criteria through examining evidence and conducting interviews with key stakeholders, including UCEM Principal, Ashley Wheaton.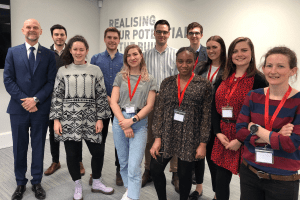 The score, including confirmation or not that UCEM has been reaccredited, will be revealed later this month. The institution became the first online university to gain accreditation – which demonstrates UCEM's commitment to promoting sustainability and social responsibility within its curriculum – in 2018 and will remain the only online university with the accolade should reaccreditation be successful.
UCEM Principal, Ashley Wheaton, said: "NUS Responsible Futures is a fantastic initiative, offering collaboration between our students and staff to assess our sustainability credentials and examine where improvements can be made.
"Closely following on from the joint pledge we signed to work together with Built Environment organisations to tackle climate change, the accreditation demonstrates our commitment to promoting sustainability to our students and gives our student base a voice in which to shape the way we operate.
"It was great to be involved in the audit and be challenged by our students on the way we go about being sustainable. I look forward to reading the report highlighting areas of strength, as well as what can be improved to continue developing as a sustainable institution."
The aim of Responsible Futures is for institutions to equip students with the knowledge, skills and values to challenge the world around them and tackle social, economic and environmental issues.
Meg Baker, the Senior Project Manager (Education) for Students Organising for Sustainability (SOS) UK – the charitable arm of the NUS which runs Responsible Futures, reflected: "It was an inspiring two days training incredible, highly switched-on students at UCEM.
"The students brought such a high degree of energy and professionalism to their roles and demonstrated precisely why we want to see more students leading on sustainability now and in the future.
"As an online education provider for the built environment, it is clear that the dedication and commitment of UCEM's staff helps to shape the sustainability work of this innovative institution.
"I hope to see their work continue to transform the built environment for the better from the professionals in the sector, to the professional bodies, to the physical built environment we experience around us."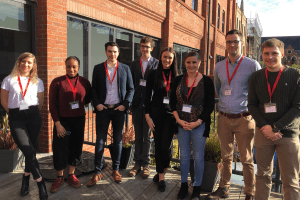 Student auditor, Callum Brown, who studies on UCEM's BSc (Hons) Real Estate Management programme and is a Graduate Surveyor at Pinders, added: "I thoroughly enjoyed this experience and I felt it brought me closer to the university, together with my fellow students.
"As an online learner, this has been a great opportunity to meet tutors and students alike, with sustainability embedded at the core, which I believe UCEM are extremely passionate about and I was pleased to see how much they actually do for the local community and the wider sector."