UCEM Awards Scholarships to City University of Hong Kong Students
Posted on: 8 August, 2017
Four hard-working Built Environment students were awarded UCEM scholarships at an inaugural ceremony in Hong Kong last Friday.
City University (CityU) of Hong Kong students, Kai-Ching Kong, Man Fai Chiu, Wing-Lok Fung and Kwan-Ho Ng received framed scholarship certificates from UCEM's Head of Construction Faculty, Tim Bennett, at the first CityU-UCEM event of its kind.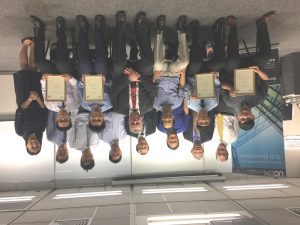 A fifth recipient of this year's UCEM scholarship, Wing-Chiu Chau, was unable to attend the ceremony, which recognises students in CityU's Division of Building Science and Technology who have displayed excellent academic achievement in their studies and a great all-round contribution towards university life.
The scholarships are intended to provide the award winners with encouragement for further study in building- and surveying-related disciplines.
Wing-Lok Fung, who gained an Associate of Science degree in Surveying (Building Surveying), said, "I'd like to say a massive thank you to UCEM for its generosity in donating the scholarship to me.
"This will encourage me to pursue my further studies and will support my study tour which I hope will improve my knowledge of construction technologies and management strategies in the lifecycle of a building."
Head of Construction Faculty, Tim Bennett, added, "Every one of our scholarship recipients have worked extremely hard to become the first recipients of these newly created scholarships. Not only have they achieved excellent results in their degrees, but they have stood out in their peer groups, winning praise from their lecturers and supporting their fellow students wherever possible.
"I am delighted to be here to hand out their certificates and it's heart-warming to see the impact UCEM will have on their future careers."
UCEM has committed to an agreed amount of funding for five CityU students each year to gain a scholarship to progress with their studies based on nominations from the University's Division of Building Science and Technology, according to an agreed set of criteria.