UCEM apprentice scoops company award
Posted on: 21 January, 2021
A UCEM apprentice was 'blown away' after being recognised with an award by his company.
Sam Boyle, who studies on UCEM's Surveying Technician Diploma apprenticeship on the Quantity Surveying and Construction pathway, won the Gleeds Behaviours Award last month.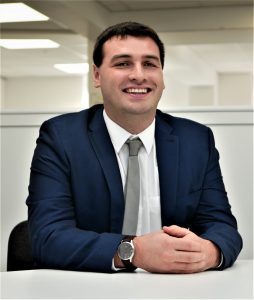 The trainee quantity surveyor was selected as Gleeds's Oxford office recipient at its end of year awards.
Sam commented: "I was blown away. I have been getting good feedback from my colleagues saying I am always the first person to put my hand up whenever someone needs help.
"I am not afraid of stepping out of my comfort zone and trying new tasks to better my skills, and am always punctual and reliable. I didn't, however, think for a second that I would have won the award which is great recognition of my work."
The award goes to the person who represents the Gleeds behaviours – people-focused, creative, performance-led, collaborative and accountable – the most throughout the year. Each employee has one vote for anyone in a particular office, from a trainee to a director.
As for Sam's future ambitions, he added: "I want to gain a Distinction from the apprenticeship, become AssocRICS, and then move onto the BSc degree at UCEM. After that, I want to get chartered and get my MRICS and, in the future, I would love to become a director at Gleeds."