UCEM, AECOM and ESFA launch joint apprenticeship scheme
Posted on: 9 March, 2018
Capital Apprenticeship Academy to give apprentices a much broader understanding of the Built Environment
University College of Estate Management (UCEM) has today announced its collaboration with AECOM and the Education and Skills Funding Agency (ESFA), through the launch of the Capital Apprenticeship Academy; a unique apprenticeship programme where apprentices gain experience in client, consultant and contractor roles through a series of rotations.
The Capital Apprenticeship Academy is a partnership venture between:
The Education & Skills Funding Agency (ESFA): an executive agency within the Department for Education, responsible for £23 billion of capital funding investment over this parliament to provide additional school places, rebuild or refurbish school buildings and address essential maintenance needs.
AECOM: a designer, builder, financer and operator of infrastructure assets for governments, businesses and organisations in more than 150 countries. As a fully integrated firm, AECOM connects knowledge and experience across its global network of experts to help clients solve their most complex challenges.
UCEM: a leading provider of supported online education for the Built Environment. UCEM offers high-quality, flexible and cost effective programmes at undergraduate and postgraduate level, apprenticeship programmes and professional development and tailor-made corporate training courses. At any one time, it has over 3,000 students from approximately 100 countries.
The overall aim of the collaboration is to develop more well-rounded project managers and surveyors in the construction industry. The academy gives apprentices a much broader understanding of the Built Environment and the roles of different stakeholders; whilst working on high-profile projects in both the public and private sector, through a series of rotations with the client, consultant and contractor.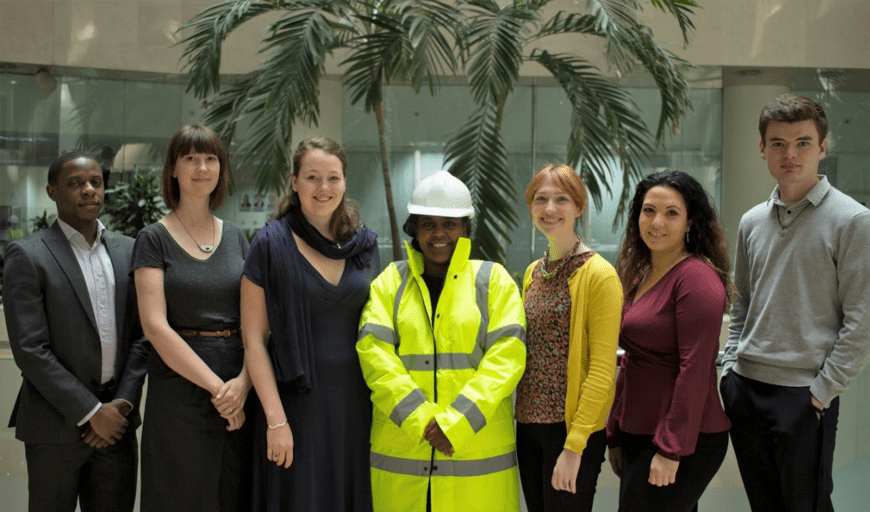 As part of the four and a half-year scheme, the first cohort of apprentices are studying towards a BSc at UCEM, and working towards Assessment of Professional Competence (APC) to secure membership of the Royal Institute of Chartered Surveyors (RICS). At the end of the apprenticeship, they will have a degree-level qualification, chartered professional membership and valuable experience at an early stage.
This collaboration is the first of its kind between the ESFA and its supply chain and has the potential to revolutionise the relationship between clients and service providers in the sector – and help promote the value of apprenticeships to employers, students and parents. The programme is being championed by Mike Green, Acting Director General of Insight, Resources and Transformation, AECOM's Richard Whitehead, Managing Director Building + Places and Martin Cawley, UK Business Development Manager at UCEM.
Martin Cawley, UK Business Development Manager at UCEM, said, "The overall aim of the collaboration is to support the Government's goal for three million apprenticeship starts by 2020 – and with it, help plug the skills gap. UCEM are delighted to be part of this exciting initiative. We believe that through our contract to deliver all surveying training to the Civil Services, we have a model that will transform how departments and agencies coordinate training and experience across Government and its supply chain."
Mike Green, Acting Director General of Insight, Resources and Transformation commented, "The Education and Skills Funding Agency is delighted to have launched this apprenticeship programme in partnership with AECOM. With training provided by UCEM, this unique four and a half-year scheme offers apprentices the opportunity to gain experience in client, consultant and contractor roles through a series of rotations whilst obtaining a degree and RICS membership. As part of the Department for Education, we want to lead by example in promoting the value of apprenticeships to employers, students and parents."
Richard Whitehead, Managing Director Building + Places, AECOM, added, "This initiative takes into our own hands the development and training of our project managers of the future. We look forward to extending our existing working relationship with University College of Estate Management through this exciting new initiative, collaborating together to ensure apprentices have a rounded experience and are equipped with skills to deliver 21st century projects."