Sustainable housing solutions debated with the public at UCEM's centenary event in Reading
Posted on: 20 September, 2019
A panel of experts from industry and government presented and took questions from the public at Reading Town Hall last night.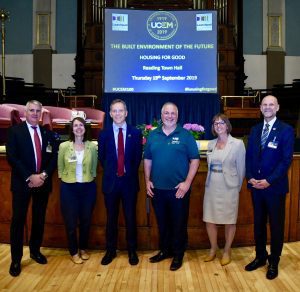 Barton Willmore Partner, Kim Cohen, Bioregional Chief Executive, Sue Riddlestone OBE, Reading East MP, Matt Rodda, and Haslams Estate Agents Managing Director, Steve Woodford, gave thought-provoking presentations at UCEM's Housing for Good event.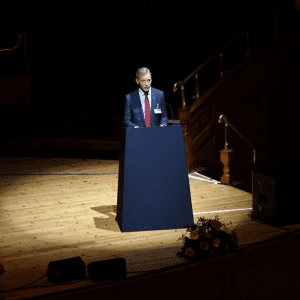 Matt Rodda called for greater governmental intervention in providing more social and affordable housing to meet the growing demand for housing in Reading and the south of England.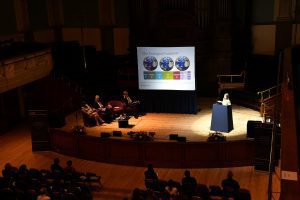 Next, Sue Riddlestone OBE presented on the ecological and climate issues facing the planet, and how Bioregional's One Planet Living blueprint can limit overuse of resources and create happier eco-communities.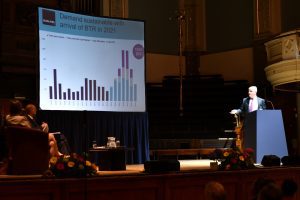 Steve Woodford examined the steep rises in housing costs in Reading over the past 20 years, influenced by the Crossrail project, and how wages have been left behind, presenting problems for those aiming to get onto the housing ladder.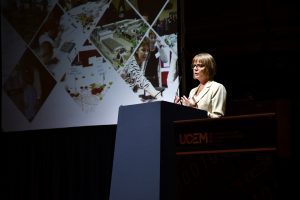 Kim Cohen closed by suggesting a culture change in how we view renting, by not necessarily seeing it as an exclusively short-term option, and urging better communication between the public and the housing industry.  
The event, held as part of UCEM's centenary activity on The Built Environment of the Future, was in aid of the institution's charity partner, Launchpad, and specifically, its project to refurbish a bedsit for its clients. Launchpad Corporate Partnerships Manager, Jason McMahon, took to the stage at the end of the evening to promote the project and appeal to attendees for support. The Reading-based homelessness-prevention charity had a stand at the event where donations were taken to go towards the project, with £240 raised on the night and the appeal currently standing at £2,655.
Attendees enjoyed welcome drinks on arrival and were invited to add stickers to a selection of boards based on Bioregional's One Planet Living initiative which asked them about their sustainability priorities. UCEM Principal, Ashley Wheaton, introduced the event and chaired the panel which took questions from the guests after their presentations. Guests were then invited for a champagne and canape reception in the adjacent Reading Museum where, among other exhibits, the story of UCEM's first 100 years is currently on display. 
UCEM Deputy Principal, Jane Fawkes, said: "The UK's housing crisis isn't going away and I'm proud that UCEM led on this important debate with local organisations and the public. All four presentations offered solutions to the crisis and I was pleased with the questions posed by the audience which showed a collective desire to improve the situation. 
"What's doubly pleasing is that we were able to hold the event in aid of Launchpad and I am deeply grateful for the donations given which will make a big difference to a vulnerable person in housing need."