Surveying talent pipeline and smart cities discussed at UCEM's Hong Kong centenary event
Posted on: 25 October, 2019
More than 200 guests assembled in Hong Kong on Tuesday [22 October] to celebrate UCEM's centenary year. 
Attendees from the sector, many of whom were UCEM alumni, joined a selection of staff from the institution at The Grand Assembly Hall in Tsim Sha Tsui to hear speeches from Sr Dr Tony Leung and Tony Tse. 
Tony Tse – a Member of the HK Legislative Council for Architecture, Surveying, Planning and Landscape – gave the keynote speech on UCEM's centenary theme of 'The Built Environment of the Future'. 
Tony advocated the growth of smart cities to help alleviate the challenges posed by the significant population growth and urbanisation in Hong Kong, and develop the city into a better place to live and work. 
He told the guests: "By leveraging Big Data and using innovative technologies and new thinking, smart city planning can enable optimal use of space, provide sustainable housing which fits seamlessly with transport systems, energy infrastructure and amenities, improve pedestrian and road traffic congestion with the aid of intelligent systems, and reduce energy consumption with environmental-friendly designs. 
"To enhance the quality of our built environment, the effectiveness of city management and life quality as well as Hong Kong's sustainability, efficiency and safety, we should adopt a new mindset to make Hong Kong a smart city." 
Sr Dr Tony Leung – the President of the Hong Kong Institute of Surveyors (HKIS) – then gave a talk on the future of the surveying profession in Hong Kong, focusing on recruiting new talent to support the industry. 
He said: "Surveyors have played a key role in developing Hong Kong from a fisherman's village to the international city it is today. That is why HKIS has long been a partner of UCEM in the preparation of future surveyors for building the future of Hong Kong. 
"Professional support of surveyors is needed for large-scale infrastructure projects like the construction of new railway lines, new development areas as suggested by HK 2030+, and Lantau Tomorrow Vision. Bringing in quality new blood to our surveying profession is a key factor to maintain the sustainable growth of the development of Hong Kong. The HKIS looks forward to seeing more new faces in our profession which will continue to contribute to the development and betterment of society."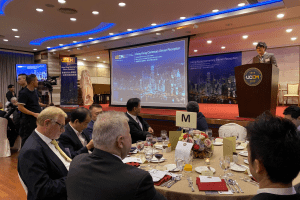 Earlier, the Head of APAC Office and Director, UCEM Asia Ltd, Robert Chan had welcomed attendees to the event and UCEM Principal, Ashley Wheaton, addressed the guests. 
Reflecting on UCEM's journey and activity in Hong Kong, Ashley remarked: "Hong Kong occupies a unique place in UCEM's history. Nowhere else in the world are there so many of our alumni in influential positions in the surveying profession. Nowhere else outside the UK do we have such a vibrant community of students. We were delighted to open a dedicated UCEM office in Admiralty four years ago so that we could increase our support for our Hong Kong students. We now have over 450 current students in Hong Kong, some of whom are representing the student body here tonight. 
"As we embark on our second century, our core purpose remains as strong as ever: to provide accessible, relevant, cost-effective education, enabling students to enhance careers, increase professionalism and contribute to a better built environment. Starting in our Centenary year we will now begin the transition to a new vision: 'To be the Centre of Excellence for Built Environment Education'. 
"By maximising both our impact and influence on education and industry we will ensure that UCEM is seen as the obvious choice of institution for Built Environment qualifications." 
Guests were then invited to donate towards UCEM's centenary fund before tucking in to a celebration dinner. Several alumni shared their stories of studying with UCEM on the stage before attendees continued the celebration into the evening.