Success for UCEM's first two apprentices
Posted on: 10 October, 2018
Two young women from Reading have become the first employees to complete apprenticeships at UCEM.
Student Experience Administrator, Georgia Haines, and Apprentice Administrator, Nicole Hatton, completed their year-long apprenticeships last month.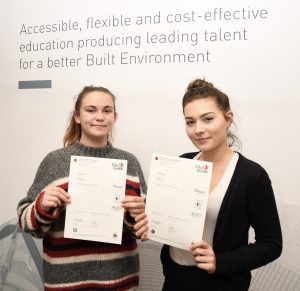 Georgia and Nicole, who are 21 and 20, respectively, both enrolled on the Level 3 Business Administration apprenticeship which is run by QA Apprenticeships. UCEM provided the supporting employment as part of the apprenticeship which saw Georgia and Nicole work for the higher education institution four days a week with one day allocated towards their studies.
Reflecting on the apprenticeship, Georgia said: "The apprenticeship overlapped with work. You choose your modules at the start to fit in with your job role. Finding out why things are done in certain ways was very beneficial. I learnt more about the job role through the apprenticeship. The apprenticeship was a great way to kick-start my career."
Nicole added: "The apprenticeship was great because you get experience and education, and no debt!"
Line managers, Sophie Elliott (Director of Admissions and Registration) and Sue Squires (Administration Team Leader – Apprenticeships), worked closely with Georgia and Nicole, respectively, to ensure they were supported with their studies. Nicole commented: "She [Sue] was helpful and supportive. She allowed me extra time to complete apprenticeship tasks [away from the day job]." Georgia added: "She [Sophie] was great. If I was struggling, she would help me. Everyone at UCEM has been very helpful."
Georgia will now embark upon a two-year Level 4 Project Management apprenticeship at UCEM and Nicole is looking to take on a full-time role within UCEM's Student Services Department.
UCEM Principal, Ashley Wheaton, commented: "I would like to congratulate Georgia and Nicole for completing their studies and becoming UCEM's first two apprentices. As the largest provider of surveying degree apprenticeships, we are passionate advocates of the apprenticeship agenda and it would be remiss of us not to practise what we preach.
"I hope we can support many more young apprentices in the future which will benefit both ambitious, career-driven school leavers and UCEM alike."