Student success celebrated at UCEM's Graduation ceremonies in Reading
Posted on: 29 June, 2019
Champagne glasses clinked, smiley selfies were taken and joy was shared as more than 600 graduands and guests attended UCEM's Graduation ceremonies today.
A record number of graduands travelled from Hong Kong, where UCEM has an office, for the two ceremonies at Reading Town Hall and they were joined by peers from the UK and a further 15 overseas countries for the celebration.
A postgraduate ceremony was held in the morning, and a ceremony for undergraduate awards in the afternoon.
UCEM Deputy Principal, Jane Fawkes, said: "I was thrilled to be able to meet our graduates and hear their personal stories of perseverance and sacrifice which is a reality of the effort put in by our students to achieve the outcomes they desire. Being an online institution means we very rarely get the opportunity to see a large group of students face-to-face so days like these are to be cherished and underline the importance of our core purpose to enhance careers and contribute to a better Built Environment.
"It was a fantastic occasion as always and I sincerely hope that all our new graduates and their guests had a wonderful day."
During the two ceremonies, UCEM Principal, Ashley Wheaton, addressed attendees, with RICS President, Chris Brooke, the Guest Speaker at the morning ceremony and former UCEM Chair, Delva Patman, the Guest Speaker in the afternoon. Preserving the Built Environment in a sustainable way for future generations was a theme which featured in each.
Ashley told the graduates: "Now that you are all qualified, I'd like you to consider it your professional responsibility to be the guardians of our substantial, precious and highly intricate Built Environment – whether it relates to future builds and newly constructed buildings; those buildings which are being restored, preserved or regenerated; those being maintained and updated, or just simply being used."
Chris told the room of postgraduates: "I am certain that you will do this fine university proud, and that you have been armed with the skills and knowledge you need to succeed in a world that is changing with such immense pace. You can, and will, help create communities and leave behind a world where all can succeed."
Delva, who is now a Consultant at Delva Patman Radler LLP, urged the undergradates: "When we make and build things, please can we ensure that all the elements are maintained in accordance with manufacturers' recommendations and good practice, so that our buildings, bridges and infrastructure last at least for as long as they are designed for, in good repair, in a proactive rather than reactive way."
A special award was handed out with BSc (Hons) Real Estate Management graduate, Daniel Hunter, becoming only the second recipient of the Peter Goodacre Award which is given for the best overall performance across all UCEM programmes.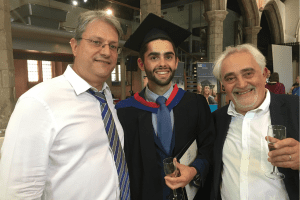 Daniel Hunter with his father (right) and Real Estate Tutor, Marios Konstantinidis (left)
For the first time, Honorary Fellowships were awarded at a UCEM Graduation. An Honorary Fellowship is a highly prestigious award which UCEM can grant on an annual basis to distinguished individuals who have given service or made an exceptional contribution in support of the institution. David Larkin and Helen Gordon were inaugurated as Honorary Fellows at the morning and afternoon ceremonies, respectively. David had a long and varied career in industry and actively supported many charities, as well as serving 11 years as a UCEM Trustee. Helen is Chief Executive of Grainger plc and has held several non-exec positions and government appointments, serving nine years as a UCEM Trustee.
Both ceremonies were live-streamed on our YouTube channel, with edited recordings to be uploaded in the coming days and photo updates were shared on our Twitter, Facebook and Instagram channels throughout the day.