Six UCEM apprentices and alumni shortlisted for the RICS Matrics Young Surveyor of the Year Awards 2020
Posted on: 2 October, 2020
Six UCEM apprentices and alumni have been nominated in various categories at this year's RICS Matrics Young Surveyor of the Year Awards.
The three apprentices and three alumni have been shortlisted for November's awards ceremony which recognises and celebrates the most inspirational young surveying professionals in the UK.
Nominated in the Apprentice of the Year category are: Chartered Surveyor apprentices, Dan Nixon, Matthew Stevens and Poppy Taylor, and Surveying Technician apprentice alumnus, Thomas Scarlett.
Adam Wilton, who graduated from UCEM's BSc (Hons) Building Surveying programme last year, is nominated in the Building Surveying category, and Kate Taylor, who gained a property degree with UCEM in the 1990s, is shortlisted for the Mentor of the Year accolade.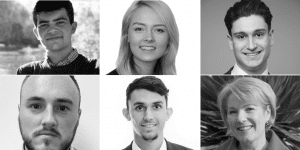 Our nominees (clockwise from top left): Dan Nixon, Poppy Taylor, Matthew Stevens, Adam Wilton, Thomas Scarlett and Kate Taylor
UCEM's Director of Apprenticeships, John Pratt, commented: "We are immensely proud of our provision of apprenticeships at UCEM so it is great to see those apprentices who are studying, and who have studied, with us being recognised in this way.
"This is the third year in a row where a number of our apprentices have been nominated for Apprentice of the Year, and this is turning into an annual highlight for us. All the very best of luck to our apprentice nominees."
Alan Hill, UCEM's Dean of School (Academic), added: "I'm always delighted to see our students succeed, and this is very much the case for those who have completed their studies with us and go on to make an impact in the sector.
"We have so many alumni going on to great things in their career so it's very satisfying to see three alumni nominated for these Awards. Graduating with UCEM gives you the tools to be a success in the Built Environment, and these nominations are proof of both the worth of our programmes and the calibre of students who seek to boost their careers in the sector."
The Awards ceremony is being hosted online on Friday, 27 November, 2020. Head to the event website to find out more.