Eight UCEM alumni and apprentice nominations at the RICS Matrics Young Surveyor of the Year Awards 2019
Posted on: 15 November, 2019
Eight UCEM alumni and apprentices are in the running to win prizes at the RICS Matrics Young Surveyor of the Year Awards 2019.
The five alumni and three apprentices have been shortlisted in a variety of categories at this month's awards ceremony which recognises and celebrates the most inspirational young surveying professionals in the UK.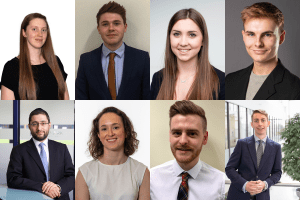 From top left and going clockwise: Rebecca Humphrey, Ben Fenwick, Rebecca Turner, Lewis Wilkes, Kieran Webber, Joe Ellison, Sarah Phillips and Gabriel Kada
Our Chartered Surveyor Degree apprentices, Ben Fenwick (Project Management pathway), Rebecca Turner (Quantity Surveying and Construction pathway) and Rebecca Humphrey (Quantity Surveying and Construction pathway), are joined by our Surveying Technician apprentice (Building Surveying) alumnus, Lewis Wilkes, in the Apprentice of the Year category.
MSc Real Estate alumnus, Gabriel Kada, and BSc (Hons) Real Estate Management alumnus, Kieran Webber, are nominated in the Commercial Property category; MSc Surveying alumna, Sarah Phillips, is nominated in the Assets & Facilities Management category; and BSc (Hons) Real Estate Management alumnus, Joseph Ellison, is nominated in the Valuation category.
In addition to these seven alumni and apprentice nominations, our Real Estate Associate Tutor, Yohance Harper, is shortlisted in the Land (Urban & Rural) category.
UCEM Dean – School of the Built Environment, Tim Bennett, commented: "It's fantastic to see so many UCEM graduates, an Associate Tutor and an apprentice nominated for these prestigious awards.
"Our academic programmes equip students to succeed in their careers and awards ceremonies like these endorse UCEM's core purpose to contribute to a better Built Environment.
"I wish all our candidates the best of luck and hope we have further reasons to celebrate on the 28th!"
The awards take place in Kensington on Thursday 28 November. To find out more about them, visit www.rics.org/uk/events/networking/rics-matrics-young-surveyor-of-the-year-awards/.
To read the thoughts of our nominees, head to our blog.