Philanthropic, business and academic achievements marked at the UCEM Property Awards 2019
Posted on: 21 October, 2019
Applause rang out at Haberdashers' Hall as the latest luminaries from industry and UCEM's alumni pool claimed the prizes at the 32nd UCEM Property Awards. 
Wates Chairman, Sir James Wates CBE, became the 32nd recipient of the UCEM Property Award, which recognizes an organisation's or individual's outstanding contribution to the property industry.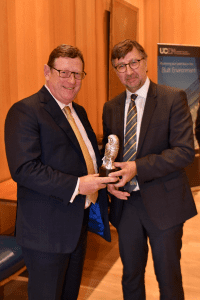 Sir James was appointed Chairman of his family's business in 2013, having previously gained a CBE in 2012 for his services to the construction and charitable sectors. 
The former UCEM Trustee received his knighthood earlier this year in recognition of his services to business and charity. Among the many industry and charitable roles Sir James holds in addition to his day job are: Chairman of the CBI Construction Council, Chairman of CITB, Chairman of the BRE Trust, Co-Chair of government sponsored Infrastructure Exports: UK, Chairman of think tank, Tomorrow's Company and Chairman of The Prince's Trust Corporate Advisory Group. 
Receiving his award, Sir James told the guests: "Thank you so much. It's a pleasure to receive this award. Looking at the names of former winners, I am following in the footsteps of some of the great names in the industry so it really is an honour to join that list." 
During his speech, Sir James took the opportunity to reflect on the 'Constructing Excellence' report produced by former Property Award winner, Sir Michael Latham, and published in 1994 which called for a drastic culture change in the way the construction industry operates. 
Sir James reflected that 25 years on, not enough has changed before noting a few of the positive changes taking place which can help realise the potential of the Latham Report. 
He concluded: "At Wates, we have created new corporate governance principles under the  tagline of 'Creating tomorrow together'. We seek to create social value in what we are doing and I believe we can achieve our ambition to create a better Built Environment. 
"If we, as an industry, pull together and work as a team, I'm sure we can make those aspirations reality." 
The luncheon, attended by more than 100 guests from industry, also saw the announcement of the fifth recipients of the Academic Excellence and Alumni of the Year awards.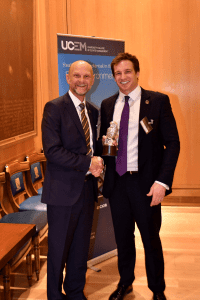 Turner & Townsend Director, Nathan Jarman, claimed the Alumni of the Year Award, which goes to a former UCEM student who has made an outstanding contribution in their early career towards creating a better Built Environment.
Nathan graduated with a Distinction from UCEM's Postgraduate Diploma in Surveying in 2011 and became one of Turner & Townsend's youngest ever Directors having joined the business's graduate scheme. 
He is currently working on infrastructure projects across the Midlands region and has held board positions with many organisations looking to bring about positive change in the sector. 
Nathan is a passionate advocate of the Built Environment, mentoring younger members of staff and taking a proactive role in encouraging good practice across the industry. 
He commented: "Considering the high quality of talent on the shortlist, it's a great honour to win this award. Winning is a great milestone in my career as I look forward to the future and continuing to make a difference."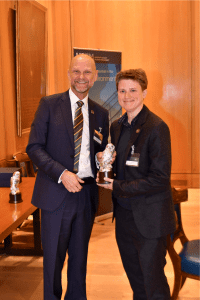 The Academic Excellence Award went to Emma Martinez for her exceptionally well-written project entitled 'To what extent is London's football heritage being lost in the rush to replace and adapt historical stadia that are no longer considered fit for purpose?'. 
The MSc Building Surveying alumna studied the contrasting approaches of Fulham Football Club and West Ham United to their stadia to appraise the cultural heritage implications of their work in this area. 
Emma won UCEM's prize for the best overall performance on the MSc Building Surveying programme upon graduating and is currently a Building Surveyor at real estate consultancy, Hollis. 
She said: "I'm speechless. It's an amazing honour to receive this award, particularly as I was up against such fantastic peers who had produced excellent projects." 
UCEM Principal, Ashley Wheaton, reflected on the success of UCEM's centenary celebrations, saying: "We are continuing to make exceptional progress and I am delighted with how we have celebrated out 100th year. I'm sure our original founder, Sir William Wells, would be proud of where we are now." 
Ashley also outlined the institution's new vision to the guests, concluding: "My job is to make sure that, as an institution, we are supporting everyone who wants to study and further their careers in the property and construction industries. 
"My commitment is that we will continue to evolve, to meet the needs of our students and industry, guided of course by our core purpose to provide education which is accessible, relevant and cost effective, and which enhances careers, increases professionalism and leads to a better built environment." 
UCEM Chairman, John Gellatly, closed proceedings, congratulating the award winners and thanking the institution's Board and staff for their work and the Property Awards guests for their support. 
Looking forward, he added: "I hope that you will agree that UCEM is in good health and that we have strong foundations on which to build into our second century." 
The Alumni of the Year and Academic Excellence Award winners were selected from a total of 11 outstanding nominees. Learn more about our Alumni of the Year nominees and our Academic Excellence nominees in our blogs.