Outstanding alumna becomes first recipient of ISCM scholarship
Posted on: 6 June, 2022
A high-performing UCEM alumna has an extra HK$5,000 for personal development after becoming the first recipient of the Institute of Shopping Centre Management (ISCM) scholarship.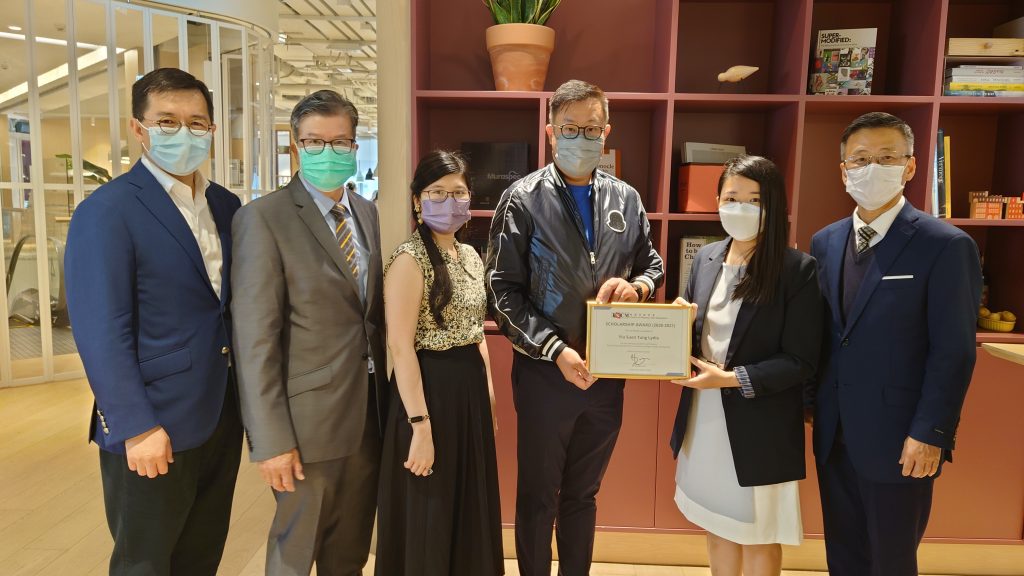 (L-R) ISCM director of training and learning, Clement Tam, UCEM Hong Kong ambassador, Gabriel Lee, UCEM business development manager, Dione Tse, ISCM chairman, Baldwin Ko, Lydia Yiu and ISCM director of training, William Chan
Lydia Yiu's scholarship was presented last month in recognition of the First she achieved on UCEM's MSc Real Estate programme. Lydia's dissertation focused on the factors behind the resiliency of the residential property market amid the COVID-19 pandemic and social unrest in Hong Kong.
This is the first scholarship given by a Hong Kong-based professional institute to a UCEM alumnus/alumna based on their academic attainment with the university. Lydia's award is the first of an initial three which will be handed out over three years by ISCM to a recently graduated UCEM student who has either studied on the MBA Construction and Real Estate, the MSc Real Estate or the BSc (Hons) Real Estate Management programme. The award is based on overall academic merit with particular credence given to those whose final year project is about shopping centre management or related to this topic.
Tim Bennett, UCEM Dean – School of the Built Environment (International), comments: "Lydia's achievement is a landmark moment for UCEM's work in Hong Kong. Such agreements with Hong Kong-based professional bodies, like ISCM, are important in helping UCEM embed itself in the region's higher education landscape.
"I would like to thank ISCM's chairman, Baldwin Ko, for signing off on the agreement and I look forward to seeing Lydia's progress in the built environment, as well as handing out two further scholarships to outstanding candidates in Hong Kong."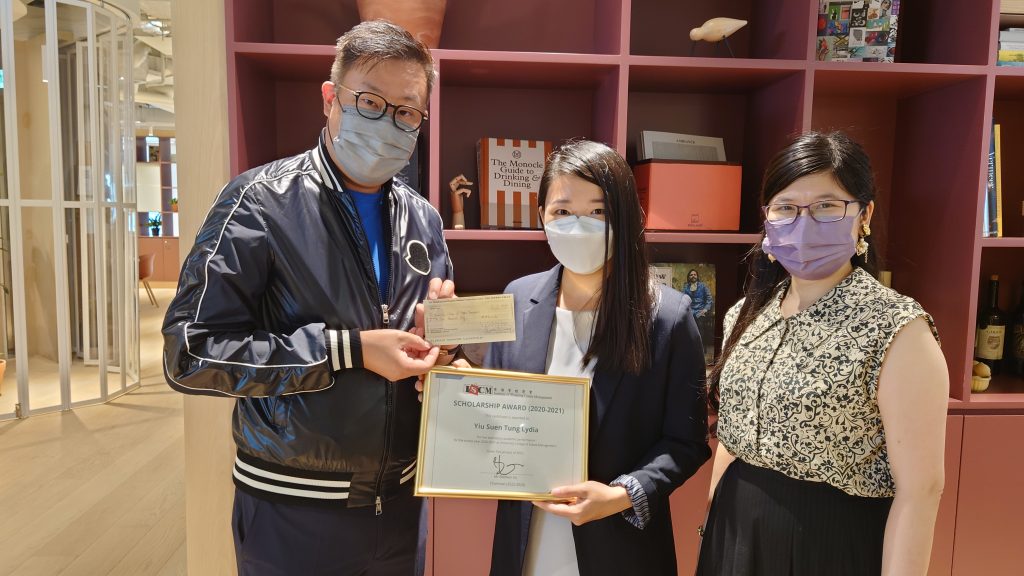 Lydia receiving her scholarship certificate and cheque from Baldwin Ko, while stood alongside Dione Tse
Lydia adds: "Winning this award would not have been possible without the inspiration I have received from my mentor, and from whom I have derived the strength to challenge myself and perform better at each stage.
"I am earnestly grateful for the recognition I have received for my work, because I am very sure that every other nominee for this award was as capable, if not more, of winning this award."
The ISCM scholarship joins a similar scheme led by the Chartered Association of Building Engineers (CABE) for UCEM construction and building surveying students in the region. To learn more about ISCM, visit www.iscm.org.hk/