Oar-some effort by alumnus at Macmillan Cancer Support Coracle World Championships
Posted on: 14 October, 2019
A UCEM alumnus made a splash with colleagues at the Macmillan Cancer Support Coracle World Championship.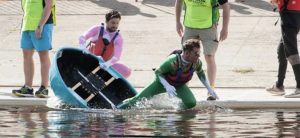 Charlie Pinnell, who this year completed his Surveying Technician Diploma apprenticeship with UCEM, took to the River Severn on a coracle with colleagues at Morris Property for the event last month. 
While Charlie and his fancy dress team of Power Rangers were unable to steer their way into pole position, they helped contribute towards a grand total of £38,224 for Macmillan Cancer Support in Shropshire.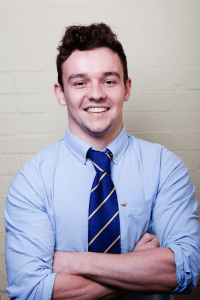 Charlie, a Quantity Surveyor for the firm, commented: "We were looking for a team challenge and this came up in discussion – what better way to spend a sunny Friday afternoon than by the river, in fancy dress, fundraising for a local charity along the way! 
"We submitted two teams for entry. I joined the Morris Marvels from Morris Property as Power Rangers and Morris Marketeers from Marketing entered as musketeers. 
"The relay involved teams of four paddling widths of the River Severn, trying to avoid each other's boats and steer against the current. There were quite a few capsized coracles throughout the afternoon, including mine! 
"Working and studying can be full-on so I was glad to be able to do something a bit different whilst still representing the company. Charity events like this have a great atmosphere and it most definitely improved our team–building skills. Hopefully I will stay dry next time!" 
The Macmillan Cancer Support Coracle World Championship has been held in Shrewsbury for 12 years with the tricky boat race raising more than £200,000 for the charity. Head to the World Championship website for more.