New research sets out vision for UK cities in 2040
Posted on: 13 July, 2021
The days of clogged sweaty commutes, ferrying workers into a single city centre could be numbered, according to a new study.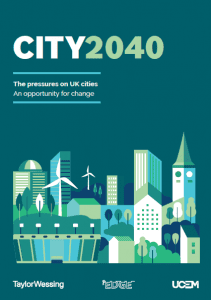 New research released today, City 2040, proposes how UK cities need to change post-pandemic enabling the real estate industry to flourish over the next 20 years, and use these changes to benefit both the environment and the wellbeing of people.
Key elements of this vision include adapting single city centres to broaden their appeal, and the addition of smaller hubs within a city's bounds. This will create more localised areas with unique identities and more widely accessible urban green space, all of which will benefit the environment.
The research, released by international law firm, Taylor Wessing, together with think tank, the Edge, and UCEM, harnesses ideas offered by 600 academics and experts drawing conclusions and new solutions for industry professionals to consider.
The trio of organisations created the research to deliver for the first time a holistic vision, informing best practice for cities across the UK to support government bodies and policy-shapers, property investors and developers, space creators and curators.
City 2040 aims to:
assist policy-makers by setting out a shared vision for UK cities looking ahead to 2040
recommend a series of innovative approaches and solutions to support well-integrated city-making with lasting benefits for us all, and the industry.
Research included reviewed literature and also contributions from groups of expert industry leaders who came together to debate views and share ideas pre-launch.
UCEM Principal, Ashley Wheaton, commented: "Not only is UCEM the leading provider of supported online education in the built environment but the institution, under our current leadership group, is increasingly a driver of change in the sector. Where opportunities exist to create a better built environment, we will take them, and the publication of City 40, created alongside Taylor Wessing and the Edge, is a powerful example of this.
"We can't afford to wait any longer when it comes to driving sustainable change, and this is one of the key features of the publication which we hope will lead to actions taken to ensure UK cities are dynamic places to live and work in."
Taylor Wessing partner Adam Marks, who led on the project, said: "COVID-19 has acted as a reset for how we think about the way we work and live. Our built environment must reflect this.
"The pandemic has accelerated this change, but it isn't the only factor influencing how we live and work. We also have a climate crisis, and as we rebuild and reassess our futures we must use this opportunity to make changes which benefit all of us and our planet.
"By focusing on four of the distinct themes prominent throughout the results of our research together, City 2040 sets out a vision for how this can be done. Our aim is to provide more clarity to some of the white noise on city development, deliver new solutions and offer alternative options to support how our cities are shaped more effectively to serve our future."
Simon Foxell, from the Edge, added: "City 2040 offers a hopeful vision of how cities, including London, could look in 20 years' time.
"A city built and adapted to this vision could be a welcoming and inclusive place for all. Great cities like London have been known to fail on the equity front, making life harder for our most disadvantaged communities.
"A growth plan, which takes into account the needs of all, is the best way forward."
To read the research report, head to the 'Latest publications' webpage.