MPs call on Henry's heritage expertise
Posted on: 9 January, 2013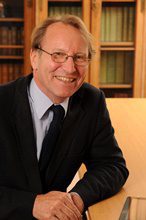 CEM tutor Henry Russell has been invited to speak to an all-party group of MPs and peers at the House of Commons on January 16th.
Mr Russell OBE, who is course leader for the College's MSc in Conservation of the Historic Environment, will give a talk to the All-Party Parliamentary Group for the Roofing Industry about training in the heritage sector.
He was invited in his role as Chair of the Heritage Alliance's Spatial Planning Advocacy Group. The Alliance is the biggest grouping of heritage interests in the UK, and members include the National Trust and the Campaign for the Protection of Rural England.
In 2011 Henry represented the Alliance in working closely with heritage bodies, MPs, peers and government  departments, to contribute to policy on the Localism Act and the National Planning Policy Framework.
"It's a great accolade to be asked to talk to the all-party group – the invitation has come as a direct result of the Heritage Alliance's previous contribution to government policy," he said.
"This is a real opportunity to air some of the issues in heritage training, and to get them across to MPs and members of the House of Lords."