Jubilant atmosphere at December 2022 Graduation Ceremony
Posted on: 5 December, 2022
Attended by over 260 graduates, the class of 2022 came together with around 800 guests to celebrate their academic achievements at UCEM's winter graduation on Saturday 3 December. Held at Reading Town Hall, there was a jubilant and festive atmosphere as graduands, academics and esteemed guests mingled before the formal event.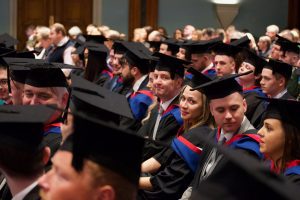 Held over two ceremonies, UCEM Chair of the Board of Trustees, Amanda Clack opened the proceedings, and invited Principal Ashley Wheaton to the stage to address the graduands. Encouraging them to reflect on their achievements and then consider their impact, Ashley Wheaton said, "Look forward and consider carefully the future and the positive impact which your newly gained qualifications and skills can have on the built environment, and even more importantly to see it through the eyes of the people who live, work and play within it. Please be in no doubt – more than ever, the world needs a better, safer, and critically a more sustainable built environment."
Deputy Principal, Jane Fawkes announced the awards and certificates across a range of programmes, and one-by-one, encouraged cheers and applause from the audience, the graduands took to the stage. 
Student prize winners and honorary degree recipients were also presented. Honorary doctorates were awarded to, Mary Curnock Cook CBE, for extensive services to further and higher education; Mark Reynolds, Chairman and CEO of Mace, for innovative and responsible services to construction and the built environment; and Graham Watts, Chief Executive, Construction Industry Council, for extensive services to construction and a safer built environment.  In receipt of an honorary MBA for his global impact in construction education was Fred Mills, Youtuber, and founder of B1M YouTube channel.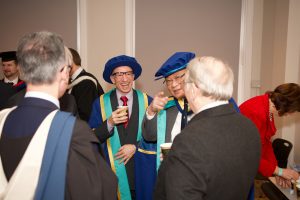 Each ceremony welcomed a guest speaker. Mark Farmer, CEO of Cast, shared his thoughts on the built environment and construction sector of the future and asked the graduates to consider what they could do to drive change.  He said, "You represent the future of our industry. You need to be inquisitive and to constructively challenge, especially if you think there is a better way. As you progress through your careers and hold more responsibility and decision-making power you will gradually all become a hugely powerful agent for change."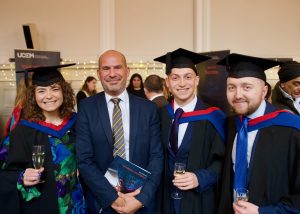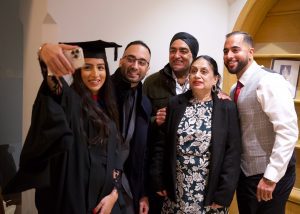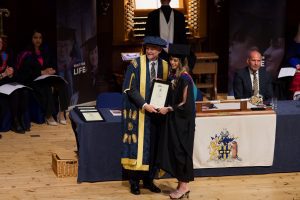 The afternoon's speaker was the President of RICS, Clement Lau, he also spoke of how as professionals UCEM graduates can make a difference, saying, "You will have the opportunity to play a vital role in addressing some of the great challenges facing our species, as ambassadors for both your generation and the profession, on the vital issue of climate. He added, "You have the potential to shape the lives and experiences of many generations to come."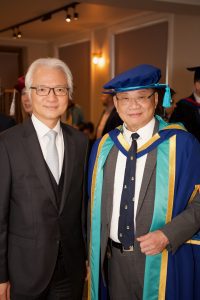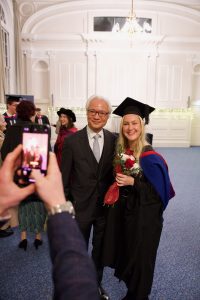 Amanda Clack rounded up each ceremony with her own congratulations, before inviting the guests to join UCEM staff for celebratory refreshments to toast the graduates' magnificent achievements.