Joyful celebrations at Summer 2023 Graduation Ceremony
Posted on: 3 July, 2023
UCEM showed off its 200 new alumni at this weekend's graduation ceremonies. The graduands became graduates at Reading Town Hall over two days alongside 600 proud guests made up of family, friends and UCEM staff. The atmosphere was certainly one of celebration and joy.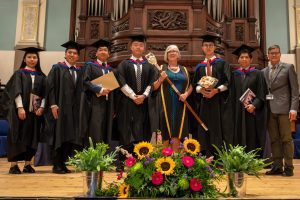 After ensuring gowns and hats were on perfectly, graduands gathered with their families and friends to take pictures outside the Town Hall and St Laurence's Church before taking their seats in the grand surroundings of the concert hall.
Dr Stephen Jackson, Vice Chair of the UCEM Board, commenced the first ceremony on Friday, by welcoming guests. Highlighting the importance of graduation day, Dr Jackson said, "Graduation is the most important event in the university calendar. A day when we recognise and applaud the achievements of our graduates and share with them in their success." He added, "We are here to acknowledge the hard work and dedication of our graduates."
Principal Ashley Wheaton then congratulated all the graduands, saying: "Through hard work and determination, all of you have achieved something remarkable and today you, your families, and friends have the opportunity to celebrate and reflect on those achievements".
Deputy Principal, Jane Fawkes, was then joined on the stage by graduands as they were presented with their certificates in order of subject, where they were each met with cheers and applause.
Next came time to recognise this year's award recipients who have gone above and beyond while studying with UCEM. The Chapman Adkin Prize was instituted to recognise the performance of those who have shown special enterprise in completing one of UCEM's programmes. Adam Stride was a worthy winner, having overcome adversity by becoming his father's primary carer in his final year of study alongside full-time employment.
Next, Peter Maxwell was presented with The Peter Goodacre Award. This award is made to the student with the most consistently high performance in studying one of UCEM's programmes.
Then, alumnus of UCEM, Professor Gary Yeung was awarded an Honorary Fellowship in recognition of his services in the real estate industry over the past four decades. During this time, he has worked with and supported UCEM in their work in Hong Kong and the wider region, including regularly undertaking CPD events for students.
It was then the turn of previous Property Award winner and guest speaker Dan Labbad, CEO of the Crown Estate, to speak. He spent time encouraging the audience to think about sustainability in their jobs. He inspired the graduates, saying "If I can ask you to make one choice, make the choice to make a difference", and added, "You have a choice to create a better future for future generations".
Saturday took a similar format with Amanda Clack, UCEM Chairman, opening proceedings. The guest speaker for the day was Caroline Gumble, CEO of The Chartered Institute of Building (CIOB). Caroline said, "I imagine most of you have a clear idea about your career within the built environment – with your excellent education, you have already started to shape your next steps – but I hope that you find a role which motivates and helps you find your life purpose."
After the formalities of the two ceremonies, graduates walked out to rapturous applause and were greeted with warm hugs and congratulations from family and friends. Then onto the drinks reception where they enjoyed a well earnt celebratory glass of fizz and were able to meet and greet the academics who had supported them with their studies.
Talking to their new alumni manager, graduates were invited to join UCEM's Alumni Association and UCEM Global Community. The Alumni Association allows past students to stay connected to UCEM and take advantage of the many benefits provided.