Introducing our Online Academy
Posted on: 15 February, 2017
We're pleased to announce that we have recently launched our Online Academy, home to a wealth of content designed to enhance and supplement your continuing professional development (CPD) in the Built Environment.
CPD is more crucial than ever in our growing, competitive sector. It's vital to ensure that you are well equipped with the most up-to-date requirements and practices of the real estate and construction industries, whatever your role.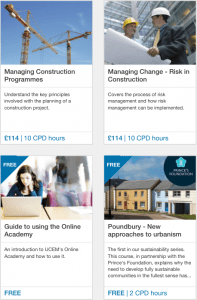 Whilst CPD is an essential requirement for members of RICS, the CIOB and other professional bodies, it can sometimes be difficult to incorporate time for this into your working schedule. Our Online Academy provides a unique means of completing your CPD online, with no need to attend face-to-face seminars. This means you can study whenever and wherever suits you best, with minimal disruption to your current lifestyle.
Jesse Meek, Head of Operations at Sovereign Housing, commends online learning for both long term study and short courses; "Every piece of learning I have completed through UCEM's fantastic online offering has opened doors in my career. I have been able to fast-track my personal and professional development. Whilst hard work has taken me forward, learning along the way has shaped my career into what it is today."
Working directly with industry leaders, we have developed a collection of short courses that satisfy formal RICS-approved CPD training. We also have a series of 'day in the life' videos, in which viewers are given a taste of what it's like to work in various roles within the Built Environment. For business leaders in the Built Environment, our Online Academy is also a great tool for staff development and training. In addition, if you are a UCEM graduate, you are entitled to a 15% lifetime discount on our Online Academy courses.
We're continuously developing new courses for our Online Academy, and input from our industry network is invaluable for developing relevant content. If you'd like to contribute an idea, please get in touch.
Visit our Online Academy at www.ucem.ac.uk/academy and make sure to stay in touch with UCEM on Twitter, LinkedIn and Facebook.