His Royal Highness, The Prince of Wales visits UCEM to mark its centenary year
Posted on: 13 March, 2019
University College of Estate Management (UCEM) is delighted to report that its Patron, His Royal Highness, The Prince of Wales, has visited the institution to mark the occasion of its centenary year.
The visit was the first for The Prince at UCEM's headquarters since it achieved independence as a Higher Education Institution through receipt of Taught Degree Awarding Powers (TDAP) in 2013 and then University College title in 2015. Founded in 1919, UCEM (formerly The College of Estate Management) was established to support the training and development of professionals in land or property-based jobs and it is estimated to have trained more than 150,000 people since it was established.
UCEM has actively collaborated with The Prince's Charities over recent years and continues to support The Prince's goals to create communities through engendering a more sustainable Built Environment.
During his tour of the site, The Prince heard how UCEM has adapted teaching to meet the needs of students over the last century including development in the last five years of its supported online education model. The Prince received a demonstration of UCEM's Virtual Learning Environment (VLE), followed by a visit to its filming studio to watch student content being created.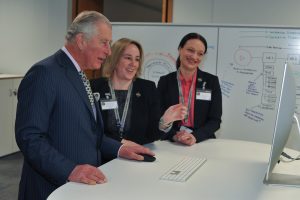 Following this, The Prince joined apprentices in a training workshop and then was shown a display of the institution's historical artefacts. The artefacts include a book by Irene Barclay – the UK's first female chartered surveyor who studied with the institution in the early 1920s – and items relating to how UCEM supported soldiers and civilians alike during the Second World War. These artefacts will later this year be displayed at Reading Museum, as part of a year of centenary celebrations.
Finally, The Prince attended a reception of UCEM Trustees, staff, alumni and students and addressed the guests before unveiling a plaque to commemorate his visit.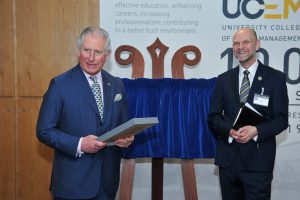 During his address, he said: "I am thrilled to have this opportunity to join you to celebrate your centenary.
"A visit like this gives me an opportunity to express enormous gratitude and appreciation, indeed admiration, for all the staff who I know commit so much of their lives in a devoted way to ensuring their students can benefit from their experience."
UCEM Principal, Ashley Wheaton commented: "I am thrilled that His Royal Highness visited us for the first time in our new headquarters and he has been able to lend his support to our centenary celebrations. It has been wonderful to update him on our significant progress over the past five years, including achieving two other significant milestones: becoming a University College and also gaining the ability to award our own degrees through TDAP.
"Our centenary is a huge milestone in our history and we highly value the support of our Patron. His visit is something that I am sure everyone involved with the day will never forget."