Dr Bill McNeill made a Fellow of EDEN
Posted on: 20 June, 2013
Fellowship of the European Distance and e-Learning Network (EDEN) is a recognition of professional excellence.
EDEN is the smart network for the professional community and a professional community for smart learning. It exists to share knowledge and improve understanding amongst professionals in distance and e-learning and to promote policy and practice across the whole of Europe and beyond.
The EDEN Fellow title is awarded by the Executive Committee to acknowledge the contribution of members "who have demonstrated excellence in professional practice of open, distance and e-learning and provided valued support to the evolution and progress of EDEN.
Bill is amongst the members of EDEN with the longest history of co-operation and partnership, promoter and committed member of the Association He has been a most active speaker at EDEN conferences, with seven papers presented, always from fresh and relevant perspective. He was a finalist for the Best Research Paper Award in 2012 at the annual conference in Porto."
Of the award Bill says "It is a very great honour to be awarded a Fellowship by peers within a professional organisation that I have been associated with since its inception in 1991. Only a few Fellowships are awarded annually making it a highly prestigious status to achieve, especially as only 7 of the 75 awards since 1993 have been made to members from the UK."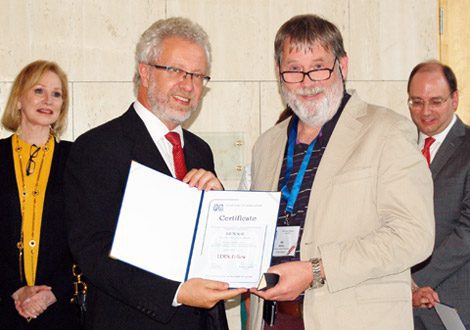 Bill McNeill receiving his Fellowship award from Morten F. Paulsen, EDEN President, at the 2013 annual conference in Oslo watched by Toni Luskin and incoming President Antonio Teixeira