CEM Principal's Reception in Hong Kong
Posted on: 27 February, 2014
CEM alumni, students and local property professionals gathered at the Hong Kong Football Club on the evening of 11 February for a reception hosted by Mr Ashley Wheaton, Principal and Chief Executive Officer.
Mr Wheaton gave a short talk about the College's  future vision, new academic offer and Hong Kong engagement, followed by a presentation to two of our  Hong Kong Honorary Fellows – Mr Michael Moir, Director of Property, Hong Kong Jockey Club and Dr Thomas Tang, Director, Corporate Sustainability, Asia, AECOM.
Guests also enjoyed refreshments, networking and renewing friendships.
Mr Stephen Bartle, Director of Business Development and Dr Jennifer Squire, Head of International Relations, also attended the event. They were joined by Mr Gabriel Lee, CEM Ambassador in Hong Kong and Professor Stephen Ho, Chairman of MacGregor Education Services Limited (International Centre for Distance and Flexible Learning), CEM's Hong Kong partner, and members of his team.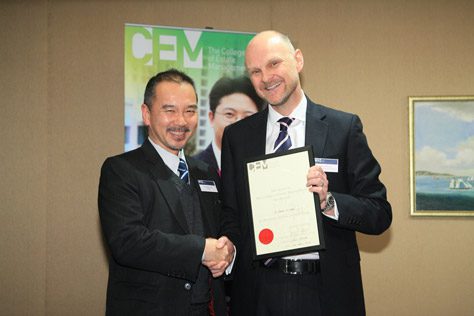 Dr Thomas Tang and Ashley Wheaton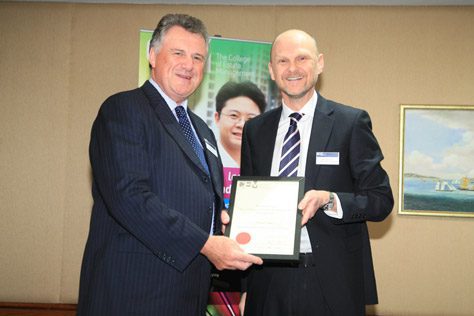 Mr Michael Moir and Ashley Wheaton