CEM high achievers celebrated at RICS London & South East Student Awards 2010
Posted on: 9 March, 2010
The 4th annual RICS London and South East Student Awards took place on 03 March 2010 at the IET London.
Hosted by Jane Ballantyne, Vice Chairman of RICS London Region, with prizes presented by Tim Richards, Chairman of RICS England, the event was held to recognise high achievers who have studied on RICS accredited courses.
Twelve partner universities from the RICS London and South East regions nominated their most outstanding students for the awards and the evening was attended by the winners, their guests and representatives from both the industry and participating universities.
Six CEM students were amongst the recipients of awards, as pictured (left to right):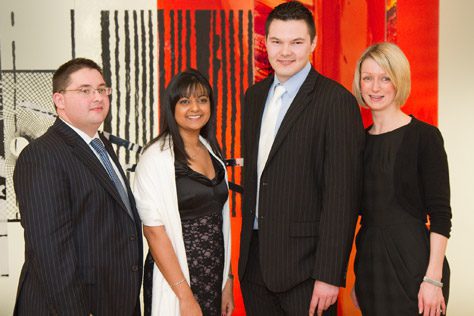 Oliver Lovat – MSc in Property Investment
Claire Virginie – BSc in Building Surveying
Anthony Duffey – BSc in Quantity Surveying
Katie Barlow – MSc in Real Estate
Not present:
Lucy Stockton – BSc in Estate Management
Mark Ashby – MSc in Surveying (GDP)