CEM Annual Presentation Ceremony
Posted on: 15 July, 2011
The Town Hall in Reading provided the perfect venue for the CEM annual presentation ceremony on Saturday 9 July 2011. The event was attended by 109 happy diplomates and prize winners and over 400 proud guests.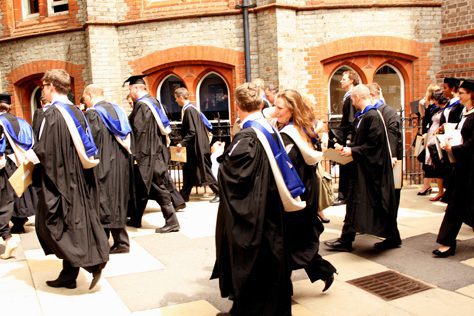 The ceremony saw students receiving their undergraduate and postgraduate diplomas from across the college courses; Shopping Centre Management, Construction Practice, Surveying Practice, Adjudication, Arbitration, Surveying, Conservation of the Historic Environment, Property Investment and Project Management. 14 prize winners were able to attend, some of whom who had received their degree a few days before from the University of Reading. A further 259 were unable to attend on the day.
A warm welcome to the ceremony was given by the Chairman of the College, Delva Patman FRICS ACIArb FRSA, who invited the Principal of the College, Dr Ann Heywood PhD BSc FRICS FRGS MCMI to address the diplomates. During her speech she remarked:
'You have shown immense commitment and made incredibly brave choices to be here today and you have achieved great change in yourselves through the qualifications that we celebrate.
TS Eliot said that it is only daring to go too far that we can find out how far you can get. You have dared, and I am confident that further successes will follow.'
Following the presentation of the diplomas and prizes addresses were given by the President of the British Council of Shopping Centres, Richard Akers MA MRCIS and the President of the Royal Institution of Chartered Surveyors, See Lian Ong KMN BSc(Hons) PPISM FISM FRICS ICECA.
Richard Akers remarked:
'Our industry is going through major change, structural change in the retail sector with constantly changing retailer requirements, legislative change through the government's growth and localism agendas, changes to marketing making more use to digital media and the growing importance of energy, water and community impacts in company's sustainability and corporate responsibility agendas. The content of the diploma course has changed with the times as it has to in order to remain such a corner stone of personal development.'
In following Richard's remarks See Lian said:
'It is also significant to note that CEM and RICS have enjoyed a very strong and robust partnership in the provision of education and qualification for the real estate and built environment profession for several decades. The partnership between RICS and CEM has also enabled many professionals to obtain their RICS qualification, the gold standard qualification in land, property and construction, through the recognition of CEM's courses as the entry level for attaining their professional qualification.'
The Chairman of the College concluded the proceedings and in her final speech remarked:
'Membership of a professional body carries with it both obligations and responsibility; responsibility to your colleagues, the public and to the body itself.
I hope you will want to play a full part in the work of your profession and its representative bodies, and will want to follow the highest standard in all that you do.
I have every confidence that you will be excellent ambassadors for your professions, your employers and, of course, the college. I hope you will look back on your association with the college with pride and affection. So please continue to look to CEM to help you with lifelong learning, with CPD and, of course, with further qualifications.'
The CEM annual presentation ceremony is a prestigious occasion in the college calendar and provides the college with an opportunity to celebrate the success of its students and wish them well for their future careers. We are always keen to keep in touch with our students and to hear from them how they are getting on. You can stay in touch with CEM's global community by joining the CEM Alumni Association, membership is free and open to anyone who has studied with us. Further details can be found at www.cem.ac.uk/alumni