CEM and Hong Kong Institute of Surveyors (HKIS) hold joint CPD event
Posted on: 26 November, 2014
Almost 200 local property professionals attended a joint CPD event hosted by the College of Estate Management (CEM) and the Hong Kong Institute of Surveyors in Hong Kong on 17 November.
Mr Tim Bennett, BSc MA FRICS – Head of Construction Faculty at CEM, delivered a lecture on 'Benefits of Using BIM for Project and Built Asset Management – Sharing Standards Internationally.'
His presentation provided an overview of using BIM for managing project data, emphasised the need for BIM Protocols and demonstrated the use of model outputs for time and cost management. Use of project information during building operation was also addressed.
Following Mr Bennett's presentation, Sr. Sunny Choi, MBA MRICS MCIOB MHKIS MHKIE MHKICM MbSHK RPS(QS), spoke about the application of Building Information Modelling in the Hong Kong construction industry.
Sr. Choi, Senior Quantity Surveyor at the Hong Kong Housing Authority, is a member of the Hong Kong Institute of Building Information Modelling (HKIBIM), a RICS Certified BIM Manager and is on the Executive Committee of buildingSMART Hong Kong. In particular, his talk focused on how quantity surveyors can use BIM in their work.
Ms Delva Patman, Chairman of the College of Estate Management, Mr Ashley Wheaton, Principal and Chief Executive Officer, and Dr Jennifer Squire, Head of International Relations, also attended this CPD event.
Download Mr Bennett's presentation
Download Sr. Choi's presentation brief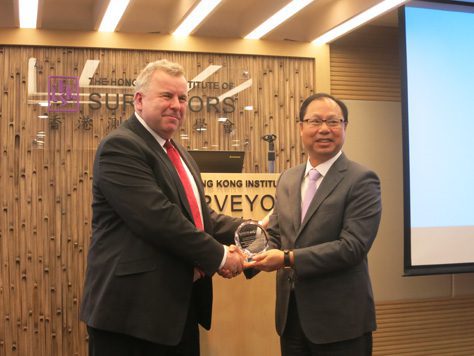 HKIS President, Sr Simon Kwok, thanks Mr Bennett and presents him with a souvenir