Carpenters Hall event a great success
Posted on: 25 May, 2012
The College of Estate Management welcomed over 80 guests, including their alumni and students, to a conservation CPD and Networking evening held at Carpenters' Hall on Tuesday 15 May.
There were two talks, the first delivered by Loyd Grossman entitled 'Heritage Policy in the 21st Century: The Good, The Bad and The Ugly'. His talk covered two main policy areas. Firstly he described the new National Planning Policy Framework, and in particular the presumption in favour of sustainable development. Secondly, he talked about the government's proposal to withdraw the current VAT relief for alterations to listed buildings, and the effect that this would have on the built heritage and the economy. Tourism in particular would suffer as – "people visit this country for buildings not beaches" At the end of the presentation, Loyd welcomed questions from the floor..
Loyd also picked up one of our alumni ties, and said that he would wear it the next time he had to negotiate with the managing agent of his apartment block!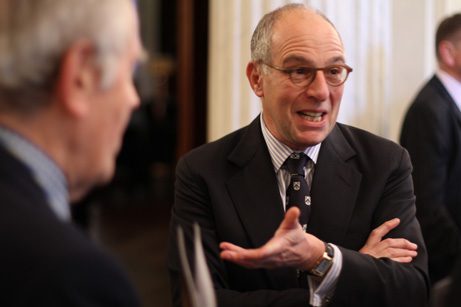 The second talk was by Malcolm James, and was entitled 'Maintaining our Heritage: Conservation Repairs at Cirencester South Porch'. This was a technical Case Study of the major conservation issues faced in repairing the carved stone front of this large structure. The talk was beautifully illustrated with slides.
The talks were very informative and we have received complimentary feedback thanking us for the evening. Our thanks to both speakers for their time and effort.
After the talks, the guests had an opportunity to network whilst enjoying a glass of wine and some canapés. At the end of the evening each received a goody bag. Any guests who were inspired by the talks are welcome on our courses.